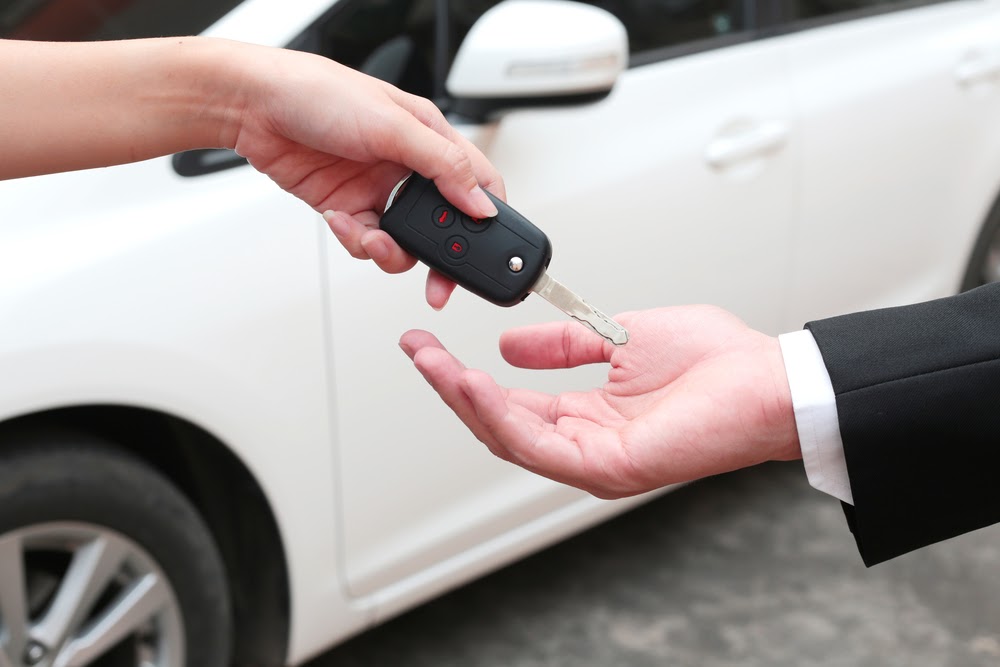 Can You Trade In A Car That Needs Work?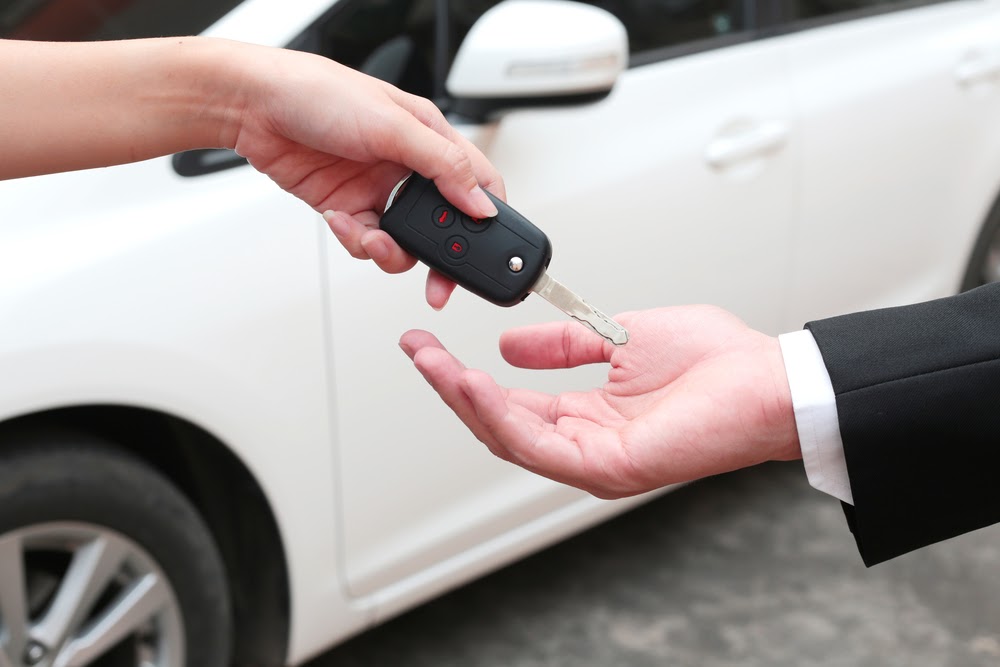 Trading in your car to a dealership is an easy and convenient way to use the equity in your current car to fund the purchase of a new one.
If you're thinking about trading in your car, there are certain things you should do before heading to the dealership. For example, you may want to vacuum the interior and clear your personal information from the vehicle's navigation system.
Many people wonder what to do if their car needs repairs. Will you need to get your car fixed before bringing it into the dealership or can you trade in a car that needs work? Here's what you need to know:
How Does the Trade-In Process Work?
Before you find out whether you can trade in a car that needs work, it's important to understand how the trade-in process works.
A trade-in is a car that you are offering to the dealership in exchange for credit. The credit received from your car can be put toward the purchase of a new car. For example, say you want to purchase a new car that is priced at $12,000, so you trade in your current car for $5,000. In this case, the $5,000 from your trade-in could be applied to the purchase of your new car, which would bring the price down to $7,000.
If you want to trade your vehicle in, you will need to bring it in so the dealer can inspect it. During this inspection process, the dealer will calculate its trade-in value, which is the amount they are willing to offer you for your vehicle.
The trade-in value is not the same as the car's market value. The market value is the amount a customer would be willing to pay for the car, whereas the trade-in value is the amount the dealership is willing to pay for it. Because the dealer intends on reselling your trade-in car for a profit, the trade-in value will always be lower than the market value. In fact, dealers typically mark up trade-ins by between 10-15%.
For example, if your car's trade-in value is $9,000, the dealer may resell it for 10 to 15% higher, or $9,900 to $10,350.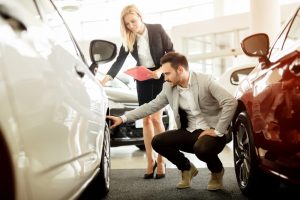 Do Dealers Accept Trade-Ins That Need Work?
Dealers accept most vehicles as trade-ins. This includes vehicles that are not in perfect condition. As long as the dealer thinks it is possible to fix the vehicle and resell it for a profit, it will be accepted as a trade-in. Even if your vehicle doesn't run, it can be towed to the dealership to complete the trade-in.
It's important to note that dealers typically will not accept vehicles with salvage titles as trade-ins. If a vehicle has a salvage title, this means it has suffered extensive damage and has been considered a total loss by an insurance company.
How Much Can You Get For A Car That Needs Work?
Most dealers will accept vehicles that need work as trade-ins. However, the fact that the vehicle needs work will impact its trade-in value.
The dealership will inspect your vehicle to calculate its trade-in value. During this process, the dealership will assess your vehicle's condition to look for issues that need to be repaired before the car can be resold. The appraiser will look for visible issues such as dents and scratches on the exterior and tears in the upholstery. They will also check the condition of the tires, headlights, and windows.
The appraiser will look for mechanical issues, too. A mechanical issue is one that prevents the vehicle from running the way it should. This may include minor problems such as loose belts, worn down parts, rust, and leaks, or major problems such as a failing engine or transmission.
All of these issues could potentially lower your vehicle's trade-in value. Why? When calculating your vehicle's trade-in value, the dealer will need to estimate the cost of making all necessary repairs. Then, the dealer will deduct the estimated repair costs from the vehicle's trade-in value.
If your vehicle needs $2,000 in repairs, the dealer may reduce its trade-in value by $2,000 to account for these expenses.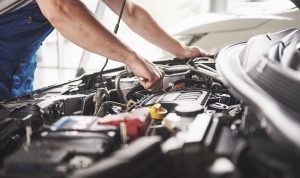 Should You Fix Your Car Before Trading It In?
The better condition your vehicle is in, the higher its trade-in value. So should you fix your vehicle's issues before trading it in? There are some issues you may want to address prior to trading your vehicle in, including:
Cleaning.

First impressions matter, which is why you should always clean and detail your car prior to bringing it to a dealership as a trade-in. You should wash and wax the exterior so it sparkles and shines. You should also vacuum the interior, shampoo the carpets, wipe down all surfaces, and use an odor neutralizer to get rid of any bad smells.

Replace light bulbs.

Before trading in your vehicle, check every exterior and interior light. If a light is out, it's best to get the bulb replaced before bringing it to the dealership. This is an easy and inexpensive repair that you can handle on your own.

Fluid levels.

Pop the hood and check the levels of all fluids, including oil, brake fluid, transmission fluid, power steering fluid, and windshield washer fluid. If a fluid level is low, top it off before taking your car into the dealership.

Replace windshield wipers.

If your wiper blades are cracked or dried out, now is the time to replace them. If you aren't sure how to replace wiper blades, don't worry. Most auto shops will put on replacement windshield wipers for you after you purchase them.

Touch up minor scratches and dings.

Inspect the exterior for minor scratches and dings that could lower your car's trade-in value. If you see any marks, purchase a small tub of touch-up paint. It only takes a few minutes to paint over these marks and improve the overall appearance of your vehicle.
If your car has another issue that isn't listed above, you may want to trade it in as is instead of trying to make the repairs on your own.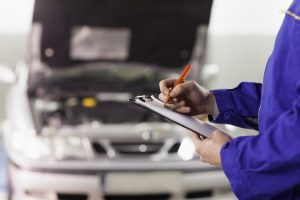 Tips for Trading In A Car That Needs Work
If you plan on trading in a vehicle that needs work, follow these tips to ensure the process goes as smoothly as possible:
Be honest.

It's important to be upfront and honest with the dealership regarding issues with your vehicle. If you know something needs to be repaired or replaced, you should tell the dealership right away. The dealership's appraiser will eventually identify this issue anyways, so there's no point in trying to hide it.

Get an estimate for repairs.

Remember, the dealer will estimate the cost of repairs and deduct it from your vehicle's trade-in value. To ensure you get a fair offer, it's best to get an estimate for repairs from a third party prior to bringing your car in to the dealer. This will give you an idea of how much repairs should cost so you know whether the dealer is deducting more than necessary.

Negotiate.

Most dealers expect customers to negotiate trade-in offers, so don't be afraid to counter their initial offer. The worst thing they can say is no.
Keep these tips in mind if you are considering trading in a vehicle that needs work.