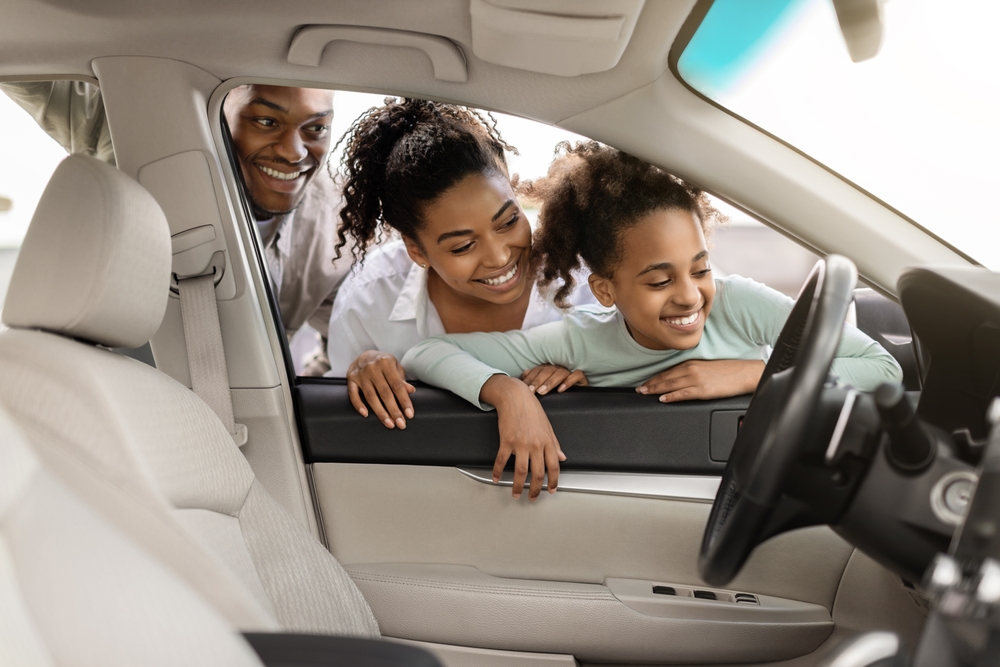 Car Buying Guide: Here's what to Know When Buying a New Car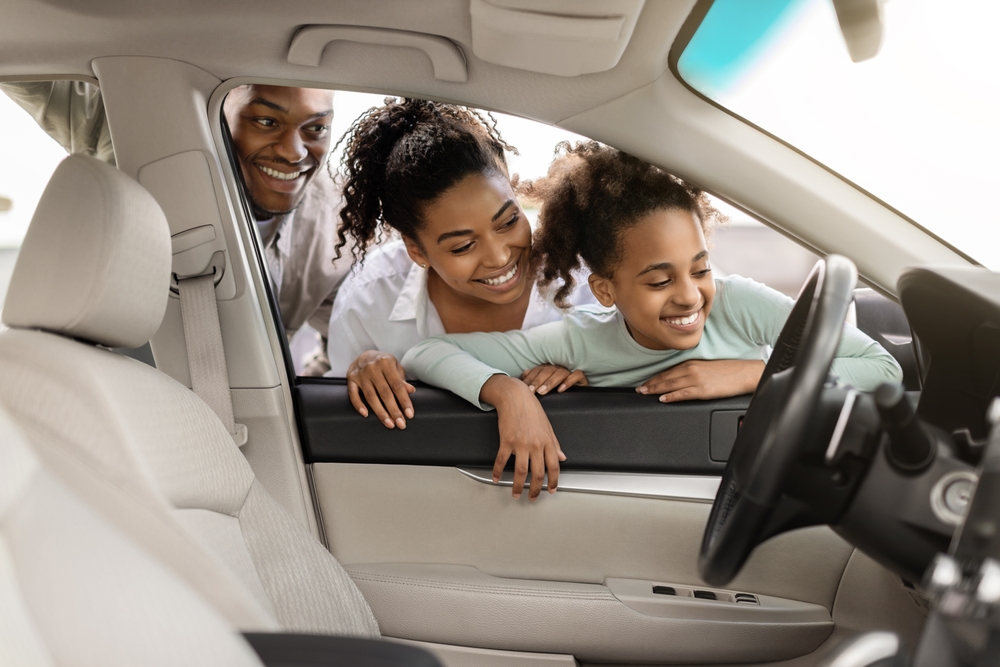 Choosing the best new car depends on numerous factors. The price needs to fit in the budget, the car has to fit the driver's daily driving needs, and the car has to be comfortable to drive. Cargo space might be a priority for those who need extra room for gear, and seating capacity might limit the car choices for larger families (only larger vehicles can fit up to seven people).
For consumers who are looking for a new car but who don't have a significant amount of experience with the process, use this car buying guide to help simplify the journey and narrow down all the options to find the best car.
Car Buyers Guides: The Budget and Financing a New Car
Before shopping for a new vehicle, buyers might need to focus on one very important factor: the budget. Most buyers don't have an unlimited amount of money to spend on their new vehicle.
There are several ways to uncover the new car budget. Nerdwallet recommends that buyers allocate less than 10 percent of their monthly take-home pay towards a monthly car payment. However, some buyers with more debt might have less to allocate, and those with few other payment obligations could allocate more.
Buyers can review their expenses related to their income to better understand how much they could reasonably spend each month for a monthly payment. A new car shouldn't put an individual into financial arrears, and the monthly payment should be affordable.
How does a monthly payment translate to the actual cost of the vehicle, though? Nerdwallet offers a reverse auto loan calculator that can help buyers convert that monthly payment estimate into the purchase price of a car.
Buyers need to remember, though, that the interest rate of financing also impacts monthly payments. Knowing their credit score can help buyers understand their creditworthiness or risk; higher scores typically correlate to better interest rates.
Consumers could use sites like Credit Karma to pull their credit scores; these scores won't necessarily match the scores that lenders can see, but they should provide a general understanding of the individual's score.
Nerdwallet's car payment calculator includes estimated interest rate ranges that correlate to credit scores. These rates are only to be used for informational purposes only, but they can help buyers estimate and understand how their credit score could impact the price of the monthly car payment.
Car buyers also could get pre-qualified for financing via Carzing. This process requires buyers to submit basic information related to monthly home payments (rent or mortgage), work history, and monthly income. Carzing will show all the financing options for which the buyer might qualify; this process can help buyers realize how much they could afford based on financing options.
Getting pre-qualified doesn't mean the buyer is approved for a loan, though. Buyers will need to submit a credit application and additional information to be approved for financing.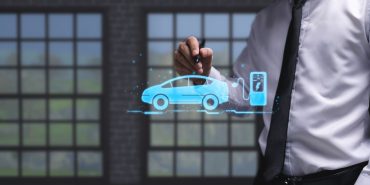 Buying a Car Guide: Finding the Safest Models in the Budget
After buyers have determined their budget or how much financing they might be able to receive, they can start to find the best models that fit into this budget and that meet their needs, too. Price, fuel efficiency, and safety all could be factors that impact the decision. How can buyers find the safest vehicles?
Buyers who want to ensure that the car they choose is among the safest models can review crash test ratings and other safety data via the Insurance Institute for Highway Safety (IIHS) or the National Highway Traffic Safety Administration (NHTSA).
Both sites offer an easy search query tool that lets car shoppers search safety data by entering a car's make/model (and year). In addition, safety data also is available for older models.
The NHTSA rates car safety via a star-based system. Cars with a five-star rating are the safest. The IIHS awards the safest models with a Top Safety Pick+ rating. More than 90 vehicles (for 2022) earned a Top Safety Pick+ from the IIHS. However, only 32 vehicles earned a five-star rating from the NHTSA.
Guide to Buying a New Car: Commuters Should Understand MPG Specs
Those who are shopping for a new car that may be used to commute to work might need to review MPG specs. The most fuel-efficient models are hybrids; many can get up to 50 MPG.
Since hybrid models are a bit more expensive than standard vehicles, buyers might search for the most fuel-efficient non-hybrid options. There are several 2022 models that can get more than 35 MPG combined. The non-hybrid models with the MPG specs that exceed 35 MPG are:
2023 Mitsubishi Mirage 39 MPG combined
2023 Hyundai Elantra 37 MPG combined
2023 Honda Civic EX 37 MPG combined
2022 Hyundai Accent 36 MPG combined
2023 Kia Rio 36 MPG combined
Buying a New Car Guide: Cars that Seat 7 Include These Body Styles
Space could be an issue for car buyers who need room for a large family. Sedans, pickup trucks, and smaller cars typically fit only five people, although some pickups could fit six.
Larger families who need space for seven or eight have two body style options: SUVs or minivans. These vehicles offer three rows of seating, and some SUV models might even fit up to nine people.
The least expensive three-row SUV is the 2022 Mitsubishi Outlander. The Outlander has a starting MSRP of $26,995 and offers space for seven; it also can get up to 27 MPG. The 2022 Outlander also received a Top Safety Pick+ rating/award from the IIHS.
New minivan models are limited and include four models: Honda Odyssey, Kia Carnival, Chrysler Pacifica (offered in a PHEV option, too), and the Toyota Sienna. The most expensive model is the plug-in hybrid Pacifica (it's priced in the $40K range). The 2023 Kia Carnival is priced at $32,900 (starting MSRP) and is the most affordable minivan; however, the new 2023 Carnival is denoted as an MPV (multi-purpose vehicle) and this could be the new term for the minivan.
Buying Car Guide: What to Know When Shopping for Electric Models
Car buyers could decide that they are ready to transition to an electric motor vehicle. Shopping for an electric car requires buyers to consider different specs of the vehicle that might impact their drive.
For example, electric cars don't include data on MPG; they operate on an electric charge and this means that their efficiency is measured in how far the vehicle can drive on a fully charged battery. This is known as the range.
The range of electric cars varies. Some can drive a little more than 100 miles on a full charge while others can drive more than 500 miles. The range also could be decreased by higher speeds, towing, using heat or air conditioning, and other factors, too.
Some areas of the country don't offer many public charging stations. Car buyers might need to charge their vehicle at home, and the most efficient charging option for home is a level 2 charging station. These stations can replenish a battery to a full charge overnight. However, a level 2 charger requires an upgraded outlet and some homeowners might need to hire an electrician to make this upgrade.
Electric cars might come with a level 1 charger. This is a cord that connects the car to a standard outlet; unfortunately, these chargers aren't nearly as powerful as a level 2 charger. It could take two days to fully replenish a dead battery using a standard level 1 charger.
Buyers shopping for electric vehicles also might need to focus on the price of the car, the space, and even the safety ratings. Electric cars are becoming more affordable; in fact, the 2023 Chevrolet Bolt EV is now the least expensive electric model on the market with a starting MSRP of $25,600. The Bolt has an estimated range of 259 miles.
Both the 2022 Chevrolet Bolt EV and Chevrolet Bolt EUV received a five-star safety rating from the NHTSA. These 2022 electric models also received five-star safety ratings:

New Car Buying Guide: Know the Value of a Trade-In before Visiting the Dealership
Car buyers might have an older car they may offer the dealership as a trade-in to help offset the cost of their new car. Before visiting the dealership, car owners can use Kelley Blue Book (KBB) to estimate the value of their trade-in.
Car owners will need to include the make/model/year of their car or enter the VIN or license plate info (and the mileage on the odometer). In addition, car owners will select the trim, features, and condition of the vehicle. KBB will show car owners an estimated trade-in value and a trade-in value range, too. Car owners also could choose to view the resale value if they wish to sell their car privately.
When using KBB to estimate the trade-in value of a vehicle, be honest about the condition. Choosing a better condition when it doesn't apply to the car may only result in an inflated value; this won't increase the price offered by the dealership (they will look over the car to understand its condition).
Car Buyer Guide: Don't Skimp on the Down Payment
Nerdwallet recommends that car buyers allocate 20 percent of the purchase price of a new car towards the down payment. New cars depreciate quickly; in fact, they might lose nine to 11 percent of their value just leaving the car dealership (after the purchase).
A down payment can help offset the impact of early depreciation and help ensure that the car isn't underwater—this means that the car's value is less than the loan balance. When reviewing finances to determine the budget, buyers also should estimate how much they can feasibly allocate towards the down payment.
New Car Buyers Guide: What are the Options When the Model Isn't Available?
The microchip shortage crunched the supply of some vehicles. Buyers could still have difficulty finding a popular model that they want. What happens when the perfect car isn't at the dealership? Does the buyer have options?
Depending on the availability of a model, the dealership might be able to order the car. Some models were so popular, though, that orders are no longer being accepted. For example, Ford is no longer accepting orders for the F-150 Lightning.
Buyers might need to have a few other models on their list. This can ensure that they have backup options in case selection is limited. In addition, buyers also might need to compromise on the vehicle's color or features. As new 2023 models drive onto dealership lots, buyers might have more options and better selections.