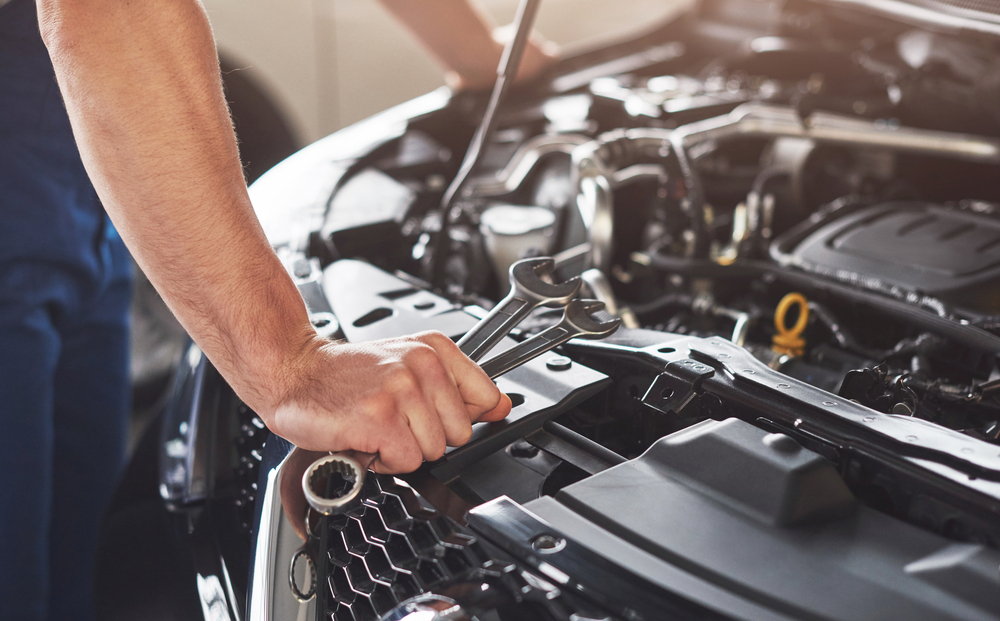 How to Tell What Engine Your Car Has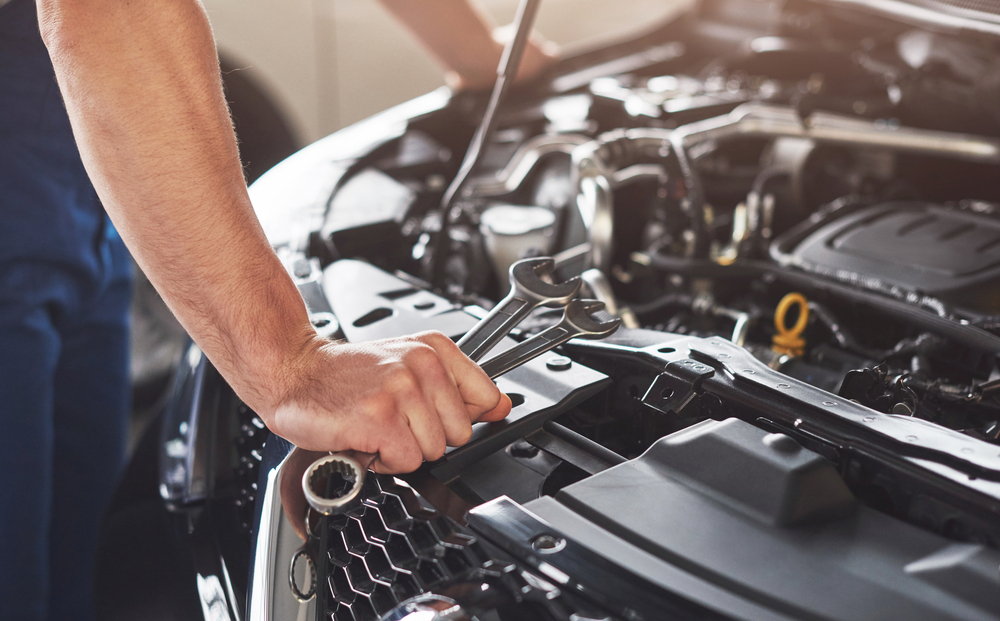 For standard cars, the engine provides power to the car. While some buyers might not place any importance on the engine, other buyers want to know all the details. While a buyer might not care about the engine, they also might not understand the specs of the crucial auto part and how the engine's size and configuration could impact their drive.
What size engine is under the hood? Here's how to tell what engine your car has:
Check the VIN

Look under the hood

Ask a mechanic
Check the VIN
One of the simplest methods for car owners to check the size of their engine is to check the VIN. The VIN stands for Vehicle Identification Number, and every car has this identification number. The number links to the car's data in the computers of mechanics and dealerships. The VIN can be found on the driver's door or dashboard (or under the hood), and it's also noted on the car title and on insurance documents, too.
Once the owner has located the VIN, they can look up the details about the vehicle online. For example, Kelley Blue Book lets buyers enter the VIN to gain information related to their car's value and the VIN could offer details about that engine.
Look Under the Hood
For those who know about the mechanical details of their vehicle, discerning the type of engine and its size might just be as simple as popping the hood and looking at the engine.
Ask a Mechanic
Car owners also could just ask a mechanic when the car is being serviced for an oil change or is scheduled for another maintenance appointment. Any skilled mechanic can explain the engine to the owner.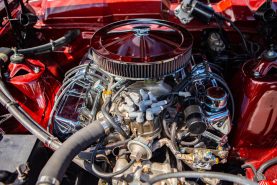 Engines Vary Per Car
The types of engines available in vehicles vary, but car owners might be most concerned with the engine's size and number of cylinders. Typically, vehicles include four-cylinder, six-cylinder, or eight-cylinder engines. However, some cars only offer a three-cylinder engine, while others could offer a 10-cylinder engine.
Car shoppers also might notice that an engine includes a spec denoted in liters—for example, a 2.5L four-cylinder engine. This measurement denotes how much air and fuel can be taken into the engine—or its displacement capacity.
The fuel is burned or combusted within the cylinders of the engine. More cylinders offer more room for fuel and air. The space in the cylinders accounts for the liter measurement in the engine. For this reason, a four-cylinder engine could offer more liters than an eight-cylinder engine design.
Is Bigger Better? That Depends
Buyers might wonder if a bigger engine is better. A larger engine—one with more cylinders and more liters in those cylinders—will offer more power and perhaps acceleration, too. Again, though, a smaller engine could have larger measurements (denoted by liters) and could offer good acceleration, too.
While the number of cylinders could lead to more power, the amount of space in those cylinders also is an important part of the engine's power. A larger engine could be a better option for drivers who need more power for hauling and towing, while other drivers might not derive much benefit from that larger size.
How Smaller Can be a Positive
A smaller engine does offer one major advantage over larger engines. Smaller engines are typically more fuel efficient. This is why many commuter cars include four-cylinder engines.
The most fuel-efficient vehicle on the market is the Mitsubishi Mirage. The model features a 1.2L three-cylinder 78-horsepower engine. The Mirage takes more than 10 seconds to accelerate from 0 to 60 MPH, but it can get an estimated 36 MPG in the city and 43 MPG on the highway.
While the Mirage features a diminutive engine that gets great gas mileage, the 2023 Chevrolet Corvette is known for its speed. The Corvette's engine design can vary; buyers can choose a 5.5L V8 or a 6.2L V8. It can accelerate from 0 to 60 MPH in around 3.8 to 3.9 seconds. However, it gets an estimated 16 MPG in the city and 24 MPG on the highway.
What is the Largest Engine?
Car buyers might wonder about the largest engine available for vehicles. Hotcars rounded up a list of the cars with the largest engines. While models from Aston Martin, Dodge, and Ford all placed within the top five, a model produced by Lister took the top spot.
The largest engine belongs to the Lister Storm, but this car isn't in every buyer's price range. The Storm was made in 1993 and production was limited to four vehicles. Good luck finding one, because these cars don't appear on the market often. One vehicle was up for auction in 2018 and sold for more than $185,000.
How big is the Lister's engine? According to Hotcars, it featured a Jaguar V12 engine (7.0L) that offered 546 horsepower.
How Can Car Buyers Find the Best Engine for Their Needs?
When shopping for a new or used car, buyers will find that engine size varies per model. In addition, some models could offer a larger engine option as an upgrade.
Pickup trucks typically offer a diesel engine as an upgraded option, too. Diesel engines are more powerful than a standard internal-combustion engine (ICE), as the combustion timing is different in the diesel engine. Buyers might look at the options and feel overwhelmed with their choices.
What engine is best? Buyers should look at their driving needs when choosing their engines. For example, those who need power for towing a large trailer should equip their vehicle with an engine with enough power to tow these loads. Buyers might even choose a pickup truck with a large diesel engine.
Smaller engines like those found in the Mirage also could be slow to accelerate. If drivers have a highway commute, they might find that the engine's slow acceleration makes merging onto the highway a frustrating experience.
If drivers need a fuel-efficient commuting vehicle, they can find an engine that offers decent acceleration (and horsepower) and fuel efficiency. For example, the Toyota Camry starts at $26,220 and can get 28 MPG in the city and 39 MPG on the highway. The base trim features a 2.5L four-cylinder engine. It can accelerate from 0 to 60 MPH in 5.6 to 7.3 seconds (depending on the engine choice).
Some drivers crave speed and want a sports car with a large engine and fast acceleration. Cars like the Chevrolet Camaro and Corvette, Ford Mustang, and Dodge Challenge might check off the speed and acceleration needs. However, these cars might guzzle gas.
Engines in SUVs and Minivans
Buyers might need a vehicle that offers cargo space and room for the family. Minivan and SUV models could be on their shopping list. Typically, small and midsize SUVs might offer a four or six-cylinder engine. A large SUV like the Chevrolet Tahoe includes a V8 (eight-cylinder engine).
The engine configuration of minivan models vary. For example, the Toyota Sienna features a hybrid engine design. The Chrysler Pacifica features a 3.6L V6, but it also is available as a hybrid. The Honda Odyssey offers a 3.5L V6 and the Kia Carnival also features a 3.5L V6.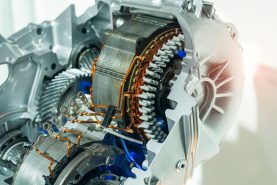 Electric Motor Power is Measured Differently
While the standard engine will feature specs related to cylinders and liters, buyers also will notice data related to the engine's torque (higher numbers are better for power). Shopping for an electric car is different, and buyers won't see any of these specs.
Instead, electric car shoppers will choose between motor options. Typically, electric cars will offer single, dual, or tri-motor options. More motors provide more power. When shopping for an electric car, buyers also can review the acceleration specs, which reference the time it takes for the car to accelerate from 0 to 60 MPH. Electric cars offer faster acceleration than many standard ICE vehicles.
While larger engines offer less fuel efficiency (generally), more motors don't necessarily denote a lower range for electric cars. The range is how far the car can travel when fully charged. For example, a Tesla Model 3 Performance model offers a dual motor and offers an estimated range of 315 miles. However, a Tesla Model X Plaid includes a tri-motor configuration and can get an estimated range of 333 miles.
Price Might Impact Power
The budget can constrict a buyer's choice related to the car they can purchase. They might prefer a larger sedan with a V6, but the smaller four-cylinder compact car might be in their price range.
If buyers are comparing models that offer the same engine size, they can find their best option by looking at a few other specs. Research the car's acceleration time (0 to 60 MPH) and look at the engine's horsepower, too.
In addition, buyers also could consider shopping for used models to find a car with a larger engine, more power, and better acceleration that fits their budget. For some buyers, though, a bigger engine might not always be the best option. Choosing a smaller engine can lead to better fuel efficiency, fewer trips to the gas station, and less money spent on that daily commute.