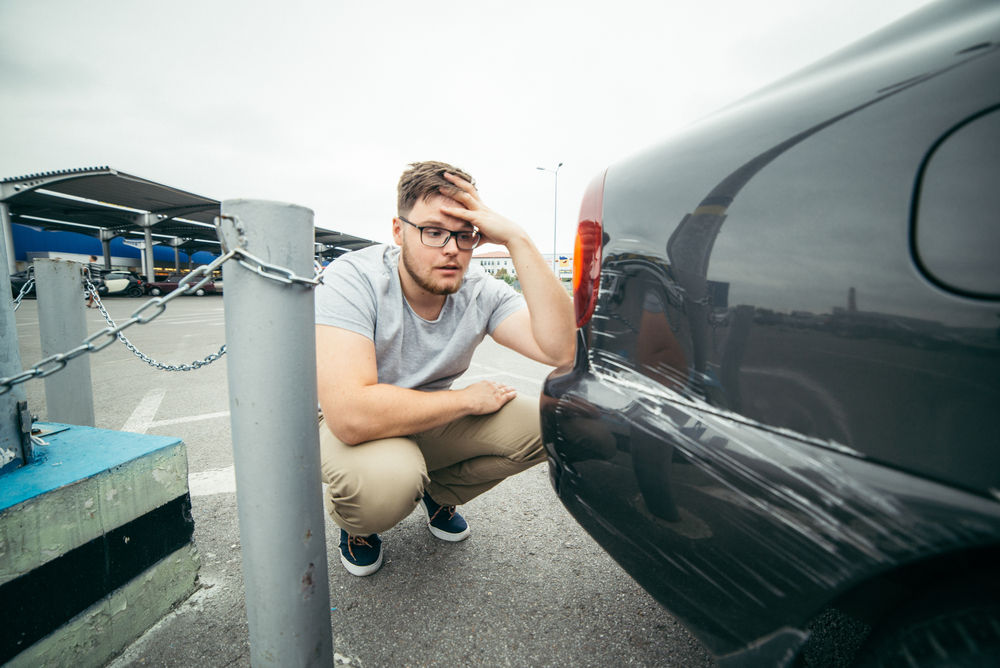 What is the Best Scratch Remover for Cars?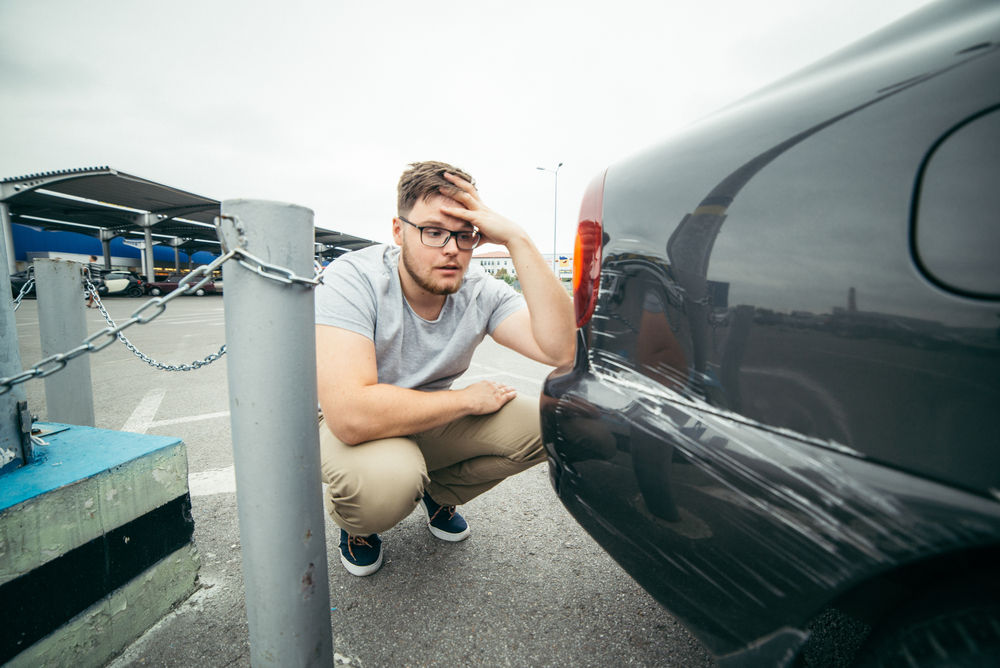 Daily driving doesn't just cause wear and tear on the mechanics that power the drive. Cars can experience scratches and marks on the once-perfect paint of a vehicle. Often, these scratches and dings are unavoidable.
Most drivers have discovered little dings and nicks on their car that were caused from the doors of other vehicles. Pebbles or other debris on rural roads can nick the paint, too. Even bad weather could cause damage to a vehicle — salted streets can be abrasive. What is the best scratch remover for cars to eliminate the annoying little dings of everyday wear and tear?
Before buying any product for their vehicle, car owners should ensure they find the options that:
Match the paint color (if applicable)
Are designed for the make/model
Whether buyers are shopping at a Big Box retailer like Walmart or a specialty auto parts store like AutoZone, store websites will encourage car owners to choose the make/model and year of their vehicle. This ensures that all the products shown can be used for their vehicle.
While paint scratch repair products might not be so model-specific, some products might not be recommended for certain models or brands. Modern vehicles could have a specialty paint; to be safe, car owners should include their vehicle information.
What are the Best Scratch Removers?
There are many different scratch removers on the market, and each product ranges in price. Most, though, are extremely affordable. So what is the best scratch remover? Based on reviews at AutoZone, the most popular scratch removers include:
Finish 1st Microzip Scratch Remover
Meguiar's M9 Mirror Glaze Swirl Remover
Meguiar's Quik Scratch Eraser Kit
Meguiar's ScratchX 2.0 Fine Scratch and Blemish Remover
Turtle Wax Premium Scratch Repair Kit
This product includes everything the car owner needs to sand away scratches. This isn't a cream; instead, it is designed to buff out scratches. Car owners might need additional products to complete the scratch fix. The Microzip Scratch Remover is currently on clearance at AutoZone for $10.99.
This scratch remover costs less than $15 and is easy to use. Reviewers note it's very effective at removing the swirling marks left from a poor car wash. It's also noted as being good for removing light scratches.
This kit is like an eraser for car scratches. The kit is used with a standard drill to make removing scratches much easier than doing so by hand. Most retailers offer the kit for less than $20.
This scratch remover is a convenient liquid and can be applied by hand to remove light scratches or swirl marks from paint. The scratch and blemish remover is about $13 at retailers.
This kit includes a scratch repair pen, pads for polishing and even products to fill in small imperfections. Turtle Wax's kit is a bit more expensive than some of Meguiar's products, though. The repair kit is priced at about $21.
Repairing Deeper Scratches
Deeper scratches might require specialty products. These scratch removers might be tinted to match the paint of the vehicle. Car owners might need to visit an auto parts store to find products that match their paint and hide and repair deeper scratches.
However, some scratches may be severe. This damage might have been caused when another car backed up too close to the vehicle in a parking lot. The car owner also could have scratched the car in another type of accident, too.
For deep scratches or damage that is extensive, car owners might need the help of a professional to repair the damage. If the damage was caused by another driver, their insurance would cover the cost of repairing the damage.
Some scratches and paint damage, though, could have been the result of a random incident and independent of any auto accident. A tree limb could have scratched a vehicle if it was hanging too low. Driving on a gravel road might have led to deep scratches on the paint.
When damage is extensive or if the scratch is deep, DIY products might not be effective. An auto body repair shop might be the best option.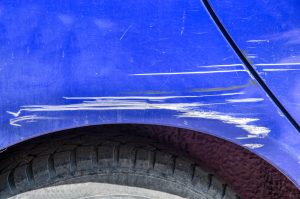 How to Remove Paint Deposits Left By Contact from Other Cars
Another car pulling out of a parking spot too close to a vehicle might actually deposit paint scratches on another vehicle. Instead of removing the paint, the contact from the car actually leaves a colorful mark. Sometimes these drivers don't even leave a note.
These scratches can be even more frustrating for car owners, because they are often extremely obvious. While small scratches in the paint could be hardly noticeable, when another car deposits paint scratches those streaks are obvious.
Removing streaks of paint scratches could take a lot of elbow grease. Car owners also need the right products. To remove these scratches, car owners could try the above highly-rated products. If they fail to remove the paint deposits, car owners can consult with an auto repair store for help.
Many employees in specialty auto parts stores are highly knowledgeable about the products that work best. When car owners don't know what product to choose for their scratches, don't be afraid to ask for help. The products for removing scratches are numerous; it's easy to get overwhelmed.
Easy DIY Solutions
Some paint scratches are incredibly small, and some car owners might think their car is scratched only to realize that it's just extremely dirty. Before investing in scratch removing products, car owners might try washing their car to see if the scratches can be easily removed.
Car owners could try to use a soft cloth or sponge with car soap to try to wash away dirt and assess the area. Cleaning the car can help owners better understand what damage needs to be fixed and the extent of the damage, too.
Even some paint streaks left behind from other cars might be easier to remove than car owners assume. Sometimes just washing the car can be a cheap and simple solution to small issues.
Can Scratch Removers Fix Hail Damage?
One of the worst weather issues that car owners can face is a hail storm. The size of hail can vary, but the larger ice pebbles can do serious damage to a car and leave lots of deep dimples in the body of the vehicle.
Hail damage is different from a simple scratch. Hail dents the vehicle; these chunks of ice can do so much damage that the car actually could be totaled by the insurance company. Car owners might wonder if any scratch products can fix hail damage.
Unfortunately, only a body shop can repair hail damage. The dents cannot simply be buffed out. However, some winter weather could lead to scratches in the paint that can be repaired by store products. For example, a car owner might remove ice from their vehicle only to realize that chipping away at their car left a few scratches in the paint.
Many Scratches are Treatable
Minor scratches caused from weather-related issues might be repairable. Minor and simple scratches from daily driving also might be fixed by scratch removing products. When car owners notice any damage, though, that isn't deep or caused by a car accident, they might opt to clean the area or the entire car to better assess the damage.
Sometimes the easiest DIY solution is just a car wash, but, thankfully, even small scratches can now be removed at home using inexpensive and user-friendly products.