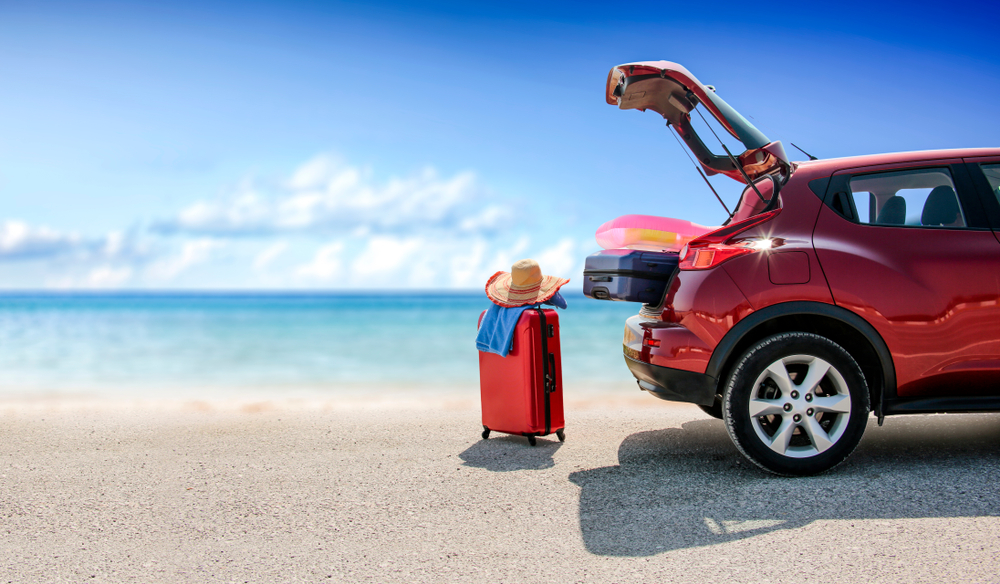 These are the Best Beach Cars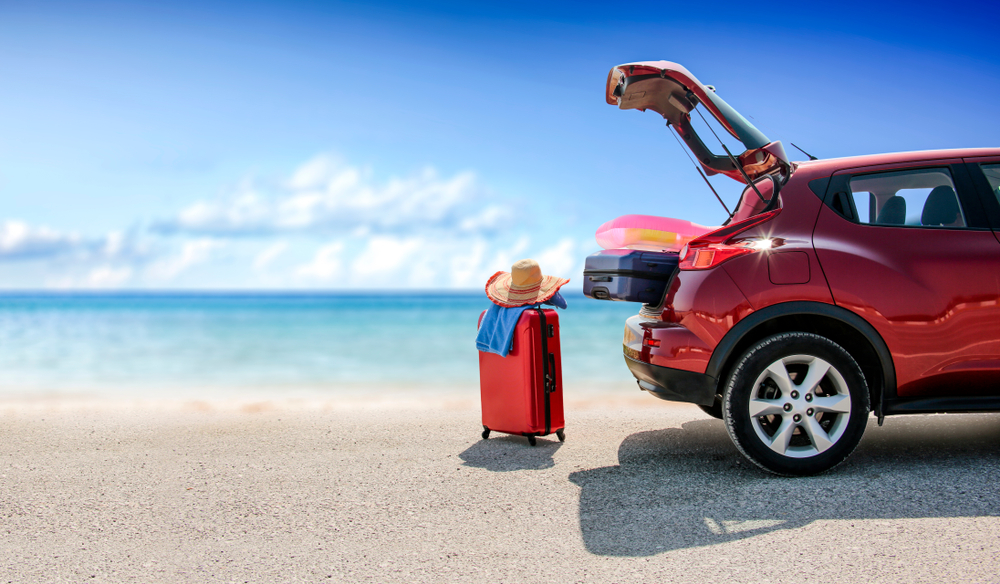 Popular beaches will post a sign along the beach that alerts drivers who don't have a four-wheel drive or all wheel drive vehicle that the terrain will be tough for their car to tackle. Sandy beaches can mean easy to navigate harder sand surfaces or deeper sand that could leave some cars stuck and stranded.
The best beach cars should tackle easy to navigate sandy beaches and the more difficult paths, too. Those who enjoy trips to the beach shouldn't be limited in their exploration when seeking fun in the sun and surf. These are the best beach cars for the sandy and rocky shorelines:

Cars for the Beach: What is Ideal for the Beach?
Car shoppers looking for the best cars for the beach might wonder what features are ideal for beach vehicles. Depending on the terrain the driver wants to tackle, all-wheel drive or four-wheel drive could be necessary. The list of recommended vehicles includes SUVs that are ideal for off-road conditions, including beaches.
Four-wheel drive allows the vehicle to navigate rocky surfaces, mud, wet or softer sand and other difficult terrain. It's also a great feature for deep snow and ice.
Do all beach vehicles need four-wheel or all-wheel drive? Not necessarily. Some beaches are easier to drive on than others. Before assuming a driver can tackle a certain beach, though, it's best to research the conditions first.
Many offer standard parking lots, and off-roading isn't necessary. Some popular beaches, though, let car owners actually drive on and park on the sand. This is a situation that could get ugly for those with front or rear-wheel drive. Typically, though, employees at the parking booths will let drivers know the areas that the standard car can navigate and which points they cannot drive beyond.
Beaches also will include signs that alert drivers when the sand becomes a hazard for vehicles not equipped with the proper drivetrain. Keep a lookout for these posted warnings.
Best Beach Car: Space for Gear is a Must
Beaches that offer standard paved parking areas won't require drivers to go off-roading. In this case, the best beach car might be the one that offers plenty of space for towels, surfboards, body boards and more.
Kelley Blue Book included the Toyota Sienna minivan in its list of best beach vehicles. Not only does the Sienna offer decent space for all beach needs, but it also offers plenty of seats for everyone. Families taking a longer road trip to get to their favorite beach might be more comfortable in a minivan—plus kids will be separated (less fighting!).
SUVs like a Range Rover Land Rover, a Jeep Grand Cherokee and even the Ford Bronco Sport also can offer plenty of space for beach needs. Plus, these SUVs can navigate sandy beaches (when properly equipped).
Pickup trucks also make ideal beach vehicles and offer an open bed for surfboards, body boards, etc. Drivers won't have to worry about sandy mess in the open back, and most pickups can be equipped for off-roading. Softer beaches and rocky shores won't be an issue.
Electric Car for the Beach: The Upcoming 2023 Subaru Solterra
KBB also named the upcoming 2023 Subaru Solterra as one of the best (future) options for the beach. The name of the vehicle literally means sun and earth: Sol is Latin for sun, and Terra means earth. This car offers all-wheel drive, which will give it more traction for sandy beaches.
The Solterra is a compact electric SUV. It will offer an estimated range of 222 to 228 miles and will have a starting price of $44,995.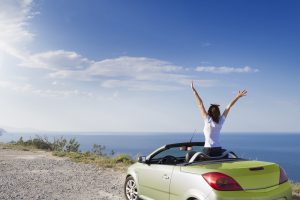 Best Beach Vehicle: What's the Best Convertible for the Beach?
Going to the beach doesn't require drivers to cruise along the actual shoreline or the sandy beach. Drivers can cruise down the Pacific Coastal Highway (PCH) and enjoy the ocean views; there's no better vehicle for this trip than a convertible.
The classic convertible also might be the ideal beach vehicle to enjoy the sun and bask in the beauty of the day. A beach-inspired playlist also might be recommended.
What are the best convertibles for the beach? The list really is nearly endless. Car buyers might opt for a classic convertible (i.e. vintage) or they may choose a modern design. Traditional American sports cars like the Corvette and the Mustang could be popular choices.
Those who want to go incredibly classic could seek out vintage 1950s or 1960s convertibles, too. However, the market could be limited for these classic options. Some used models might even need extra work.
The Jeep Wrangler also is a favorite beach vehicle that can feature an open top. This popular Jeep model is an ideal choice for off-roading on beaches or just cruising along the highways overlooking the ocean.
The least expensive convertible model for 2022 is the Mazda Miata, which has a starting price of $27,650. The small Miata is designed as a roadster and offers decent fuel efficiency—26 MPG in the city and 35 MPG on the highway. Mazda explains that the Miata was designed as a nod to the 1960s roadsters.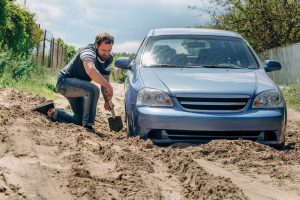 What are the Worst Cars for the Beach?
While there are a number of 'best' vehicles for those who are ready to hit the beach, are there any vehicles that car buyers should avoid for their sandy excursions? There isn't necessarily a worst car for the beach, although some cars just aren't designed for the sandy shores.
Any working car can get the driver to the beach via standard paved roads and highways. Not all vehicles can navigate sandy beaches or rocky terrain. While some sand is packed firmly and easy for most cars to navigate, softer sand is a surface for those equipped with all-wheel drive or four-wheel drive.
What happens if a front-wheel or rear-wheel drivetrain vehicle drives past the beach warning signs and treks onto softer or mushier sand? They might need to be pushed out or towed. Cars that aren't equipped with the proper drivetrain could dig their wheels into the sand and get stranded.
Before venturing onto the actual beach with a vehicle, car owners should make sure their vehicle can be tough enough for the terrain.
Tips for Beach Driving
Those who live near the ocean might drive to the beach often. Tourists who are traveling to beaches for vacation might not be familiar with navigating these areas.
When taking a trip to the beach, car owners should pay attention to any warning signs posted in the area. Keep cars locked to ensure belongings stay safe, and never venture into an area that isn't recommended for a vehicle.
In addition, some beaches might be more remote. Mind all rules of the area and also be aware of the rising tide. Drivers might assume they parked far enough from the beach, but they might be surprised to find that they are closer to the water than they realize when the tide rises.
When traveling in remote beach areas, make sure to have an emergency kit handy and a fully charged cell phone.
Use Carzing to Find the Best Beach Vehicles
Car shoppers looking for the best beach cars can use Carzing to find all their available options. Use Carzing to search for vehicles by make/model, price or body type.
The best beach cars could vary per individual. Those who are looking for an SUV with four-wheel drive or all-wheel drive can start their search by choosing the body type option. Carzing will show all the SUVs available in the area, but shoppers can further refine their search.
To the left of results, car shoppers will see a toolbar with additional car criteria. Use the toolbar to set price parameters, select drivetrain options or even to select a fuel preference (electric, hybrid, etc.). Carzing will update the options to ensure that buyers only see vehicles with the options they want. They also can sort their search results by price, mileage, age or other criteria to view the most relevant options at the top of the page.
Carzing also lets buyers get pre-qualified for financing. Enter information related to work history and housing costs (mortgage or rent), and Carzing will show all the loan options for which the buyer could qualify. Buyers can review their options to find the loan with the lowest monthly payment, the best interest rate or the shortest loan term. Carzing also helps buyers understand how much money they will need for a down payment.
Once buyers find the financing that works best for their budget, they can print out a voucher to take to a participating car dealership. To be approved for their preferred loan, buyers will need to complete a credit application at the dealership.
With Carzing, buyers can take control of their search for their ideal vehicle and even find the best loan options to finance their purchase. Use Carzing to simplify the search and shop for a new car from anywhere.