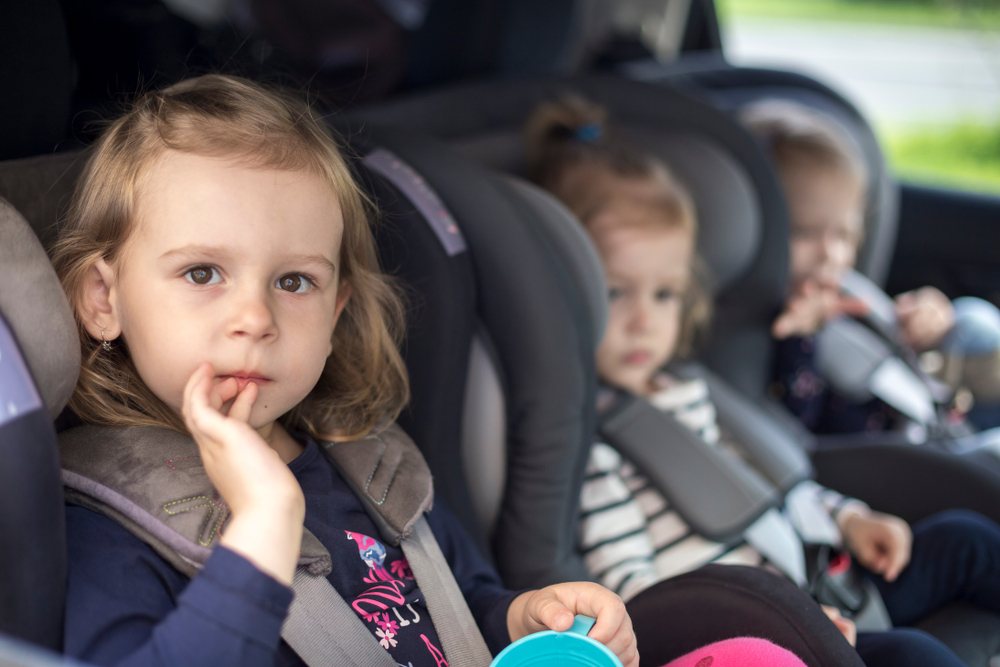 What Is the Best Car for 3 Car Seats?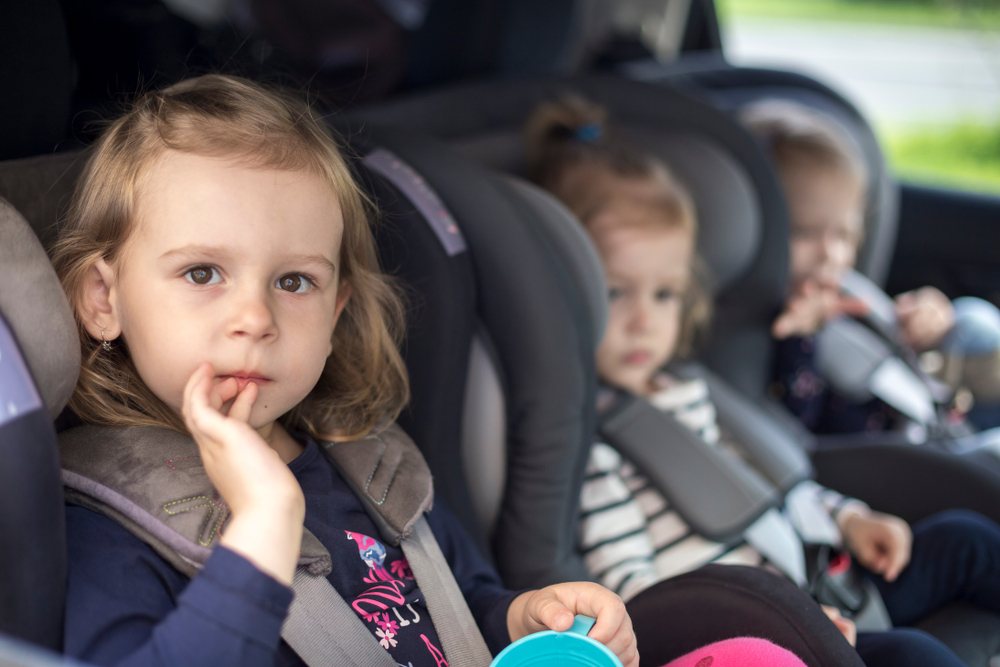 Car buyers with larger families might even have two or more children still requiring the use of a car seat. Modern vehicles now feature a LATCH system (lower anchors and tethers for children) that allow the seats to fasten securely in the vehicle. In safety reports by the Insurance Institute for Highway Safety, LATCH systems are always evaluated.
Not all vehicles include space for multiple car seats in the back. While there could be plenty of LATCH restraints, the back might simply be too cramped for three bulky car seats. What is the best car for 3 car seats? There are three vehicle body types that offer plenty of room to securely fasten multiple seats:

Safety Recommendations Related to Car Seats
Through the years, the recommendations for car seat use have changed. According to Healthychildren.org, toddlers should sit in a rear-facing car seat until the age of two, toddlers and preschoolers should use either a convertible car seat or one that offers a harness system, and older children should be placed in a booster seat.
In the '80s and the decades prior, families probably had no qualms about letting children ride in the front seat or even in the bed of a pickup truck. Now experts recommend that children 13 years and younger should stay in the backseat.
As safety systems have advanced, cars began featuring airbags. These safety air cushions are meant to protect the driver and passengers in the event of a crash, but airbags in the front seat weren't designed for children. If younger children ride in the front and the car has a collision that deploys the airbags, the child could sustain injuries.
Some states have laws regulating who can ride in the front seat and who cannot. Others might leave the decision up to parents.
For younger children, booster seats and car seats can provide the best protection in the event of a crash. Infant car seats typically feature a cradle design and a five point harness that secures the baby. Once children outgrow the smaller cradle-type seat, they move up to a larger more open seat. Until the age of two, the car seat should be placed rear-facing.
Car seats use the latch system found in vehicles to secure in a back seat space. These LATCH systems include lower metal anchors (found at the base of the seat). In addition, the system features tether anchors at the top of the seat. This system ensures that all car seats and boosters can be anchored securely into the seat so they don't jostle or shake during the drive or in the event of an impact.
About the LATCH System
The Car Seat Lady includes helpful graphics that show parents the layout of the LATCH system in the backseat of the standard car. While the back seat usually has space for three passengers (and three seat belts) and also typically includes three top tether anchors, not every car might offer enough lower anchors.
For parents that need to understand how many latches and tethers each vehicle offers, the Car Seat Lady includes pictures, graphics and even a chart explaining the details. This could be a helpful site for parents needing more insight about car safety systems.
The Car Seat Lady also explains that car seats are now heavier and children in them are heavier, too; when car seat systems in vehicles were first launched, the seats were lighter. According to the Car Seat Lady, the lower latches might not have the durability to protect the heavier seats.
In addition, the site explains that newer car seats will explain any recommendations related to using the seat with the lower latches/anchors. Parents should read the guide that comes with their child's car seat. For example, some rear-facing seats don't use a top tether but others do (along with the lower anchor).
For parents who are confused as to how to install the car seat properly, many areas offer stations that will check the installation of the seat, too.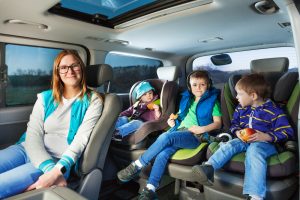 When Parents Need Three Car Seats
The car seat recommendations can be a bit overwhelming for parents. Eventually, though, parents become pros at using the seats and understanding when they need to upgrade to a larger model and/or flip the car seat around. Again, read the instructions with the car seat and have it inspected by a professional.
While the Car Seat Lady includes information about the LATCH systems in different vehicle models, parents who need space for three car seats might choose larger vehicles to ensure that the back seat isn't so cramped.
Three-row SUVs can provide space for about four car seats (maybe more). Depending on the restraint system design for each model, there could be enough space for more than four children in car seats or booster seats. However, parents should research the restraint offerings of different models.
Some parents also will want to space children so that when parents have to remove children from their seats it isn't too cumbersome. Three car seats in one row of seating could be difficult for parents to reach each child (especially if all children are infants).
Should parents choose captain's chairs in the second row or a bench seat? The option is up to parents, however, again, the safety latches need to be researched. In addition, captain's chairs might be easier for parents who need to reach two children in the middle row.
What if Parents Can't Afford a Minivan or a Three-Row SUV?
The reality is that not all parents can afford a new minivan or large three-row SUV or crossover. Are they out of luck when they have three children who all need a car seat?
Most back seats should offer enough restraints for three car seats. Some parents have triplets or three small children, and a larger vehicle just isn't an option for their budget.
While the Car Seat Blog explains that installing three car seats can be difficult, it isn't impossible. The blog notes that newer car seats can be narrower to allow for three car seats to fit in the backseat. However, since the arrangement could be tight, parents might seek help from a professional at a station that checks car seat installation.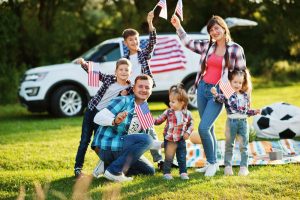 For Larger Families, the Options Might be More Limited
While three children might be able to fit in a back seat of vehicles, parents with four children in car seats or boosters are more limited in their options. In this case, a bigger vehicle that offers three rows of seating is a necessity.
There are four minivan models on the market; the Chrysler Pacifica is also available in a hybrid option, which, technically, would bring the options to five models. The other options include:
Chrysler Pacifica (standard)
All the minivan models provide three rows of seating. All the models either received a Top Safety Pick+ or a Top Safety Pick rating/award from the Insurance Institute for Highway Safety.
Minivans aren't in the budget for all buyers, though. The least expensive model is the Kia Carnival, which starts at $32,900.
The lowest-priced three-row SUV, however, is the Volkswagen Tiguan. It has a starting MSRP of $26,490.
Leasing Could be a Budget-Friendly Option
Families who need space for many car seats don't have to commit to buying a car. In fact, car buyers might find that leasing a minivan or three-row SUV is a less expensive option.
Leasing a car does have pros and cons, though. Leasing a car is cheaper than a monthly car payment (for the same vehicle), but those who lease must abide by mileage limitations per the contract. Expect extra fees when exceeding the mileage stipulations.
Those who lease a vehicle also might like the lack of commitment of a lease. A lease is a bit like a longer rental; typically a lease is two to three years. At the end of the lease, the individual could decide to buy the vehicle; however, they don't have to buy the car. They can choose to return it to the dealership.
A lease also means that drivers don't have to worry about certain maintenance needs of the car; things like oil changes and tire rotations are the responsibility of the dealership. However, those who lease are still expected to handle upkeep and other needs.
If a family needs a larger vehicle, a lease could allow them to enjoy a better car for less money than buying. When considering a lease, individuals should research promotions or deals offered at local dealerships. Depending on the auto market, there could be lease deals.
Families looking for the best car for three car seats might find that they can make their current car compatible with all three seats. Modern vehicles might offer plenty of latches for all seats, although the back space might be crowded. For families with four children or more in car seats, a three-row SUV/crossover or a minivan might be the best fit.
No matter what vehicle families choose, read the instructions for car seat installation, follow all the safety guidelines and utilize stations that help with proper car seat installation.