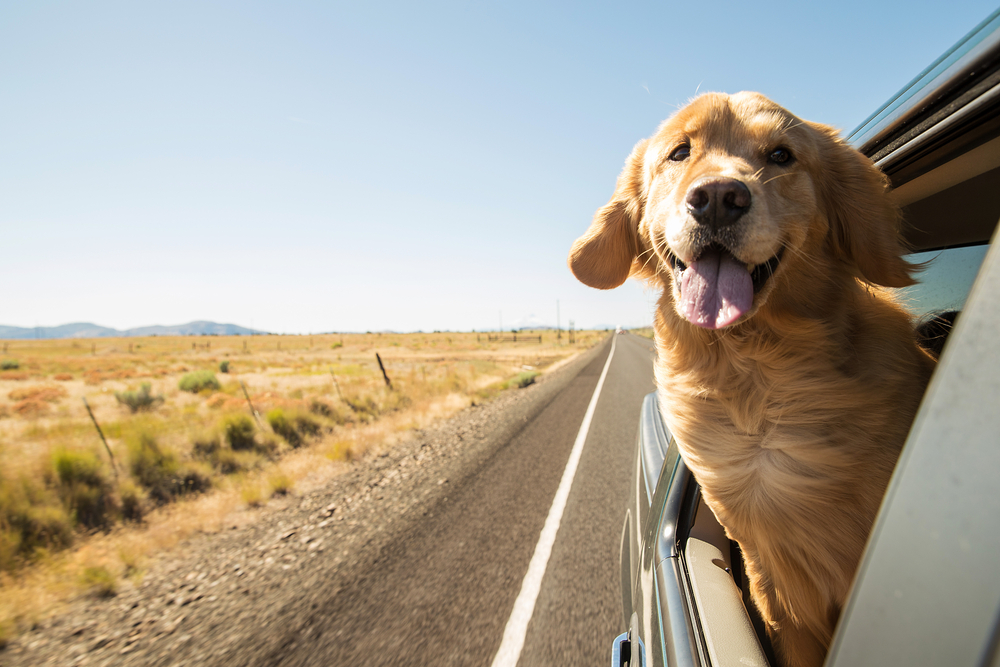 What is the Best Car for Dogs?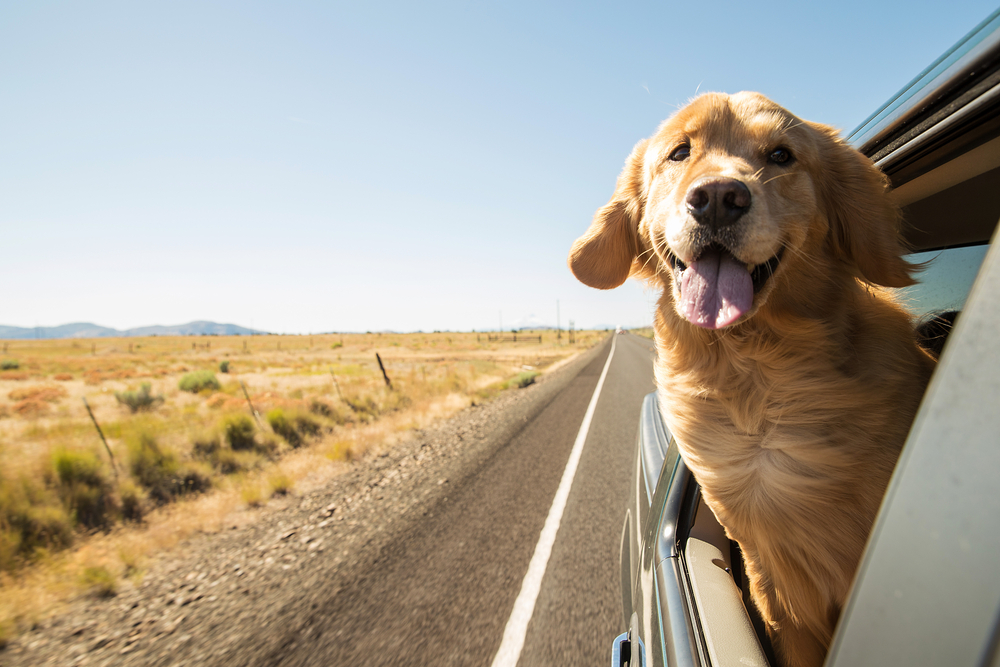 Dogs are considered man's best friend, and it's not uncommon for owners to take their furry friends on trips or just on dog-friendly errands. Those who are looking for a new car might be on the hunt for a vehicle that's ideal for canine companions.
What is the best car for dogs? While some auto sites might offer their list of recommendations, the truth for many dog parents is that almost any vehicle can offer space for a dog. However, there are certain features that might be ideal for car shoppers who need the best vehicle for a dog.
For those who want to take their dog along for the journey, these car features are beneficial and can help keep dogs comfortable and safe:
Climate zones in the back seat spaces

C
ar Seats and Tethers for Dogs
Taking a dog on a trip does not mean that car owners can simply put their friend in the backseat. Dogs need to be protected during a drive just like humans.
There are numerous car seats or latches for dogs. Some car seats look like a box in which the dog sits. They fasten to the seat. Other seats might be designed like a hammock.
Some owners use a leash-type tether that fastens to the seat belt and secures to a harness on the dog. This is a bit like a doggy seat belt.
No matter what restraint or seat an owner chooses, they should ensure that their dog is safe and secure in a seat. If the driver has an accident, an unsecured dog could be injured or killed. These safety systems help provide protection in the case of an accident or even a sudden stop.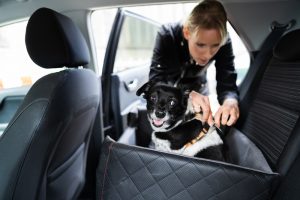 Car Features That Add Comfort and Safety to a Dog's Travels
While all dogs should be secured in a back seat space, there also are numerous car features that can add to their car comfort. Car shoppers who intend to take their dog along for a ride occasionally or on a more regular basis can opt for these features.
Climate Zones for the Back Seat Spaces
Cars get extremely hot when they have been sitting in the sun. This heat is uncomfortable for humans, but fluffy or hairy dogs might be greatly impacted by the heat. To keep furry friends cool and comfortable, car shoppers might look for climate systems that allow for easy temperature adjustment for the back seat(s).
Obviously, dogs can't control the temperature of their environment, but their owners can and should. Set the temperature and let the cool (or warm) air keep dogs comfortable. These separate climate areas allow for different temperature settings in each area of the car and everyone could have their own ideal temperature.
Car Seat Latches and Hooks
Today's cars offer standard car seat latches and hooks. However, some older vehicles might feature older safety systems for car seats.
Dog owners might choose either a leash/harness restraint or a car seat for their pet. When researching cars, be sure to check out the design of latches and the restraint system to ensure that it is compatible with the pet systems. Most vehicles should be compatible, but owners might check it out to be safe.
Captain's Chairs
In minivans and SUVs that offer three rows of seating, the captain's chair might be an additional upgrade option for the second row. However, these seats could be better for securing pets.
Captain's chairs have armrests that fold down to create a secure space for a car seat or for a pet that's tethered via a harness system. While a bench seat could still offer latch systems, pets might slide across this longer seat.
Consider upgrading to captain's chairs if the budget allows.
Locking Window Controls
This might seem like an odd feature focus for pet owners, but the locking window control option could save the driver some sanity. Pets typically love looking out car windows, and they might lean on window controls and unknowingly roll the window down too far.
A wide-open window could be a safety issue, but it also could just be distracting to the driver while on the highway. To ensure that a furry friend doesn't accidentally step on the window control and have open access, choose window controls that can lock.
Power windows with locking functions for the back seat tend to be common and a standard feature for many models; they are a child-safety feature. However, some car shoppers are shopping for used models. Older vehicles might not be equipped with this feature.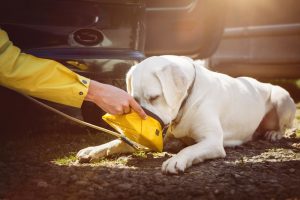 Other Tips for Taking Canine Companions Along for the Drive
Many pet owners consider their dog (or cat) to be like a child. One of the most hazardous issues when taking a pet along for the ride, though, is also one that impacts parents of young children: hot cars.
With the rise of hot car fatalities among infants or young children, car manufacturers have included a message on the infotainment screen to check the back seat. This message could be beneficial to pet parents, too.
Don't ever leave a dog in a hot car unattended. Even a mild temperature day could result in a car that soars to more than 100 degrees. According to Hills (the maker of Science Diet), "It's generally safe to leave your dog in the car for a maximum of five minutes, and when the outside temperature is above freezing and below 70 degrees."
If owners are taking their dog for a ride, they need to consider any trips that they plan to make with the dog. If dogs are not allowed on errands, owners should consider leaving them at home where they are comfortable.
When taking dogs for trips to parks or just on road trips, owners also need to ensure they take along any necessities for their pet, including:
Owners should be prepared with food and water for their pet in case they are out longer than anticipated. They also need to carry bags for any puppy messes. There also are leash laws in many areas, and owners should always carry a leash in the car.
Don't Forget the Seat Cover
Car seats might be upholstered in fabric or leather, but most textiles (natural or artificial) might not be dog-proof. A dog's claws might dig into the seat and cause scratches. Some dogs get car sick, too.
Car owners can find seat covers that provide extra comfort for their dog and keep their seats clean and protected, too. These covers won't be damaged by sharp claws, and, if a dog gets car sick, many can be removed and washed for easy cleanup.
Owners of Big Dogs Might Opt for Larger Vehicles
While any car could be ideal for a dog with the right safety systems and seat covers, some dogs are larger than average. Larger breeds might be more comfortable in cars that offer more headroom and more space for stretching out.
While captain's chairs could be ideal for dog car seats, larger dogs could feel more comfortable lying across a bench seat. However, every dog might have their own personal comfort and preference.
Car shoppers looking for the best cars for large breed dogs might consider:
Many pickup trucks offer an extended cab, and this could be a great place for a canine friend. Truck owners should not let dogs ride unsecured in the truck bed. However, there are crates that are designed for the bed of a truck, and these areas can keep pets secure in the back.
What to Do When Dogs Dislike the Car
Some dogs love traveling with their owners, but others fear and loathe going in the car. Some animals equate the car ride with a trip to the vet or other undesirable location.
The American Kennel Club offers several tips and recommendations for handling car anxiety; the AKC recommends taking a step-by-step approach that offers positive reinforcement (treats) and eventually acclimating pets to the car via short trips. Pet owners can review the recommendations from the AKC to help their pet become car-friendly.
The AKC also provides tips for car owners who need to manage their dog's car sickness. For those who are susceptible to having an upset stomach in the car, the AKC recommends that owners keep the temperature cooler, limit food and drink before the trip, and roll down the windows.
The AKC notes that exercise before the trip could help and that dog owners also could chat with their animal's veterinarian about any medications that could alleviate sickness.
Shopping for a Dog-Friendly Vehicle
Car shoppers looking for the best vehicle for dogs might be able to make any vehicle dog-friendly. When traveling with canine companions, though, owners should ensure that the animal is safely secured in a seat in the event of a sudden stop or crash. Car owners also can protect their car's seats from scratches and doggie damage with a seat cover.
Owners shouldn't forget to pack any necessities before hitting the road with their pet. With the proper planning, though, a car trip with pets can be enjoyable for both the owner and the owner's furry best friend.