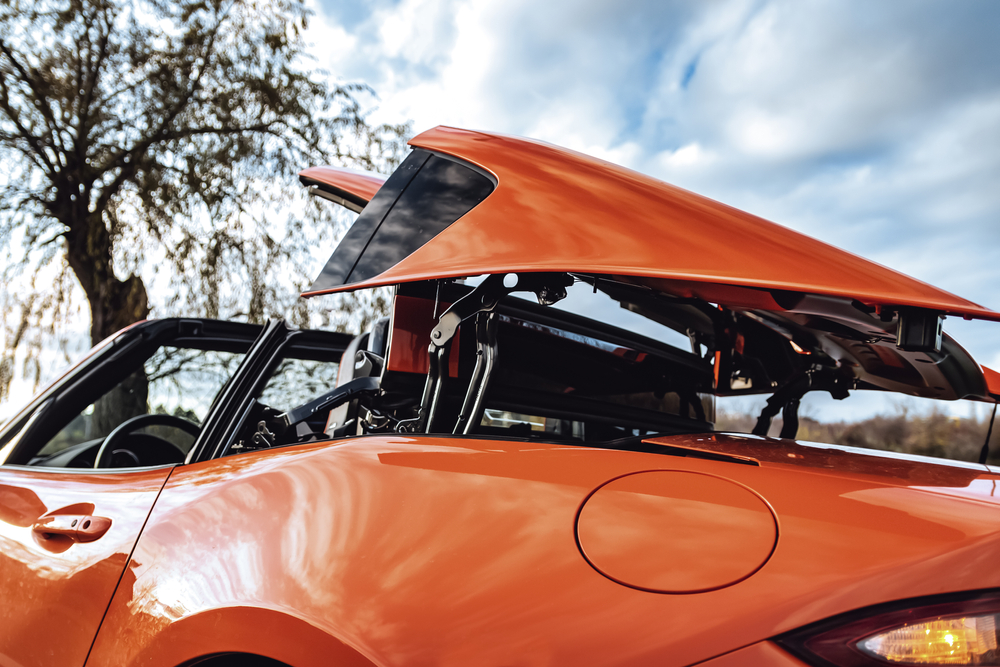 The Best Hardtop Convertibles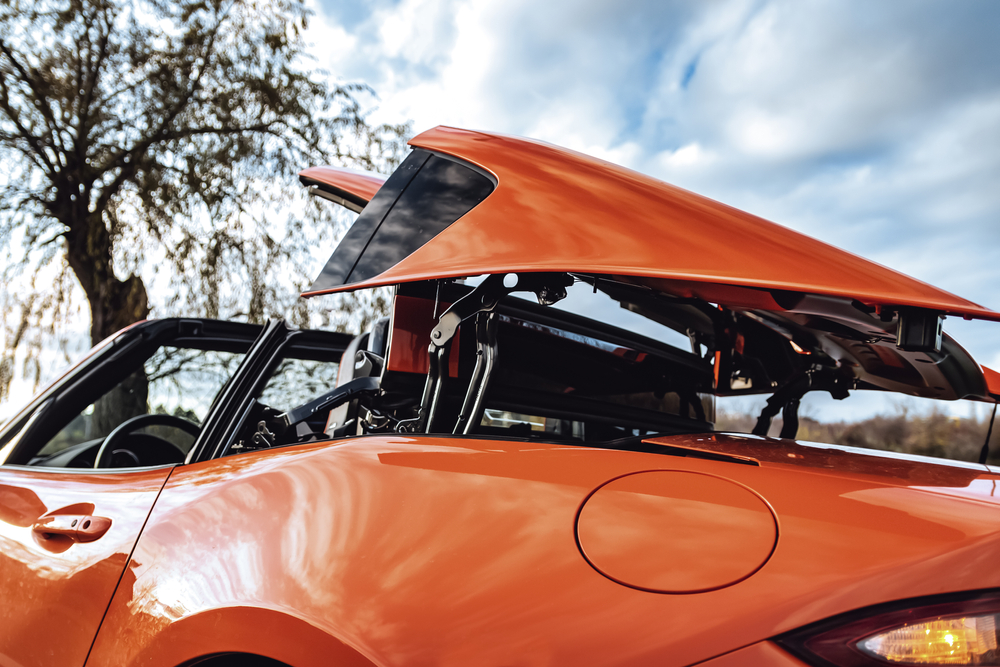 Convertibles are offered in two roof designs: hardtop and soft top. The hardtop convertible design, though, has fallen out of favor with both buyers and manufacturers. New model convertibles typically only feature a soft top.
Why aren't hardtop convertibles desirable? BMW Akron explained that the reason might be attributed to buyers' perception that the hardtop didn't' exemplify the convertible design. In addition, hardtops added more weight and could be more difficult to repair.
For buyers who like the hardtop, though, there are still some options. The best hardtop convertibles include several SUVs, sports cars, and classic cars, too. Check out these hardcore hardtop convertibles:

Convertibles Include Rugged SUVs
While car buyers might perceive the convertible as a sports car speeding down the Pacific Coastal Highway with the top down, convertible vehicles aren't limited to sports cars. Convertibles include rugged SUV models, too.
In fact, Jeep is known for offering many of its models as convertibles. The Jeep Wrangler and Jeep Gladiator offer an open-air design that leans sporty and carefree. The Jeep convertible design is iconic and part of the brand's appeal.
The Ford Bronco also features an open-air design. This model is a competitor of Jeep and offers a similar rugged appeal and off-road capabilities, too.
Are Hardtops Hard to Sell?
In the past, manufacturers/brands might have let buyers choose which type of top they wanted for their convertible. A hardtop could be retracted and folded back (or removed completely for some models). The soft top worked in a similar fashion.
While a hard top might have offered more protection in the event of a rollover or accident, the soft shell top is lighter. As BMW Akron explained, the hardtop also could be an issue if it needed to be repaired and hardtops are heavier.
Some car buyers simply didn't like the look of a hardtop. The soft top might be more synonymous with the convertible design. As buyer preferences might have skewed towards the soft top, fewer models were available with the hardtop option.

Sports Cars with Hard Tops
While the options for sports cars with hardtop convertible designs are a bit more limited, there are a few new hardtop convertibles available. Some of these models include:
Chevrolet Corvette Stingray
The Mazda MX-5 Miata starts at $35,350. However, the more expensive 'Club' trim is sold out for 2022. The MX-5 features a 155-horsepower engine that can accelerate from 0 to 60 MPH in 6 to 6.4 seconds.
The Porsche 911 Targa offers a convertible hardtop design but isn't in every buyer's budget. The Targa starts at $143,100 and features a 443-horsepower engine that can accelerate from 0 to 60 MPH in 3.6 seconds. The Targa can hit top speeds of 188 MPH.
The 2023 Chevrolet Corvette Stingray also is offered with a hardtop. It starts at $64,500 and features a 495-horsepower engine that can accelerate from 0 to 60 MPH in 2.9 seconds. The Stingray can reach top speeds of 194 MPH.
The 2023 Jaguar F-Type is available as a hardtop convertible. The F-Type P450 convertible starts at $76,700. It offers a 444-horsepower engine and can accelerate from 0 to 60 MPG in 4.4 seconds.
Various Ferrari models offer a hardtop option. However, buyers may pay top prices for a Ferrari. Expect six figures—starting in the $200K range.
Go Classic with these Early Hardtop Models
Past vehicle models might have offered a hardtop convertible option. Classic cars also feature this drop-down hard top. While there are many different older models of hardtops available, some of the coolest choices—and perhaps most iconic, too—include these classics, retro and cool cars:
Ford Fairlane 500 Skyliner
BMW Z3 Roadster (a hardtop roof was available as an accessory)
Classic Convertibles: The Ford Thunderbird and the Ford Fairlane
Both the Ford Fairlane and the Ford Thunderbird are classic cars, but the Thunderbird appeared in more modern iterations. The Fairlane 500 Skyliner was produced in the '50s through 1970 and featured a hardtop convertible roof that added to its design allure. The Ford Thunderbird debuted in early 1954, and it was last produced in 2005.
According to Classic.com, the average price of the Fairlane is $37,322. However, the highest sale price soared beyond $300K.
The Ford Thunderbird averages a sales price of $42,827. Like the Fairlane, some models of the Thunderbird have sold for more than $300K. In fact, the highest sale price for a Fairlane was $374,000.
Mod Convertibles: The Volkswagen Beetle
The small VW Beetle is an iconic automobile with roots in the mod '60s. The 'bug' experienced a resurgence in popularity when it was reintroduced with a newer design in the late '90s. However, Volkswagen stopped production of the original Beetle in 2003, but other iterations continued until 2019. Buyers can find used hardtop Beetles from various years and design iterations.
Refined Convertibles: BMW Z3 Roadster
BMW's Z3 Roadster was sleek, sporty, and elegant. Owners also could add a hardtop roof that was made available as an accessory for their Roadster. The Z3 was produced for the 1996 to 2002 model years. Buyers might be able to find used models at various price points.
Other Hardtop Convertible Options
Buyers might have their brand and model preferences for hardtop convertibles. While this convertible roof option was once available for many brands, now the soft-top convertible style is the mainstream option.
For some Jeep models, though, the hard-top might still be an option. Some buyers might feel more secure with the hard-top when choosing convertible SUVs.
Sports car models with hardtop designs are limited, but there are several items. Some models like Ferrari are not within the budget parameters for standard buyers, though. In addition, other high-end luxury couture cars could offer a hardtop convertible option.
Hardtop Convertibles that Plug In
Car buyers who are ready to move to electric power and ditch their reliance on gas stations might look for an electric hard-top convertible. Are there many options on the market for electric hardtop convertibles?
The Tesla Roadster is a convertible hypercar that is available for buyers to reserve. The price is estimated to be around $200K. However, the Roadster will offer an estimated range of 620 miles and will be able to accelerate from 0 to 60 MPH in 1.9 seconds. It also may be able to reach speeds of more than 250 MPH.
Buyers shouldn't mistake the Mini Cooper Hardtop electric model for a convertible. While the name says 'hard top,' this isn't referring to a convertible hard top. However, for those who are interested in making a move to electric, the Mini Hardtop Electric is affordable and starts at $34,225. However, the estimated range for the model is only 114 miles. Those who experience range anxiety might not feel that the range is substantial enough to get them where they need to go, especially if their daily commute is extensive.
Yet, the options for electric convertibles may be expansive in the future. In fact, the site Top Electric SUV reports that numerous electric convertibles are in the works. Expect to see convertibles from Polestar, Tesla (the aforementioned Roadster), Volkswagen, Bentley, Fisker, Maserati, and more.
Will all these models feature a hardtop? Buyers might need to wait to find out.
Shop Used Models to Expand the Selection
Classic collectible cars aren't the only models that offer hardtop convertible options. These vehicles were in production throughout the 21st century. Some might have recently been discontinued.
While the newer hardtop convertible models might be limited, buyers can expand their options by shopping for used models. In the past, more manufacturers offered hardtop convertible designs for sports cars.
In addition, shopping for used cars also allows buyers to save money on more expensive convertibles like luxury brands. Buyers also could find Jeep models at better prices, too.
To search for hardtop convertibles on sites like Carzing, buyers might just start their search by choosing the body style as their query focus. The site will show all the models nearby, but buyers can refine their results by selecting other parameters from the toolbar to the left of their results.
Buyers also could sort their options by price or other criteria. This ensures that buyers always see the most relevant options at the top of their page.
If buyers don't find exactly what they want nearby, they also could expand their geographic radius to search in other areas. However, expanding the search too far could lead to results in other states.
While some car enthusiasts might prefer soft-top convertibles for their lighter design and classic appeal, the hardtop convertible can appeal to buyers who just want a more protective option. Some buyers also like the look of the hardtop. When shopping for new or used models, buyers can explore all their options to find the best car that fits their budget and their style, too.