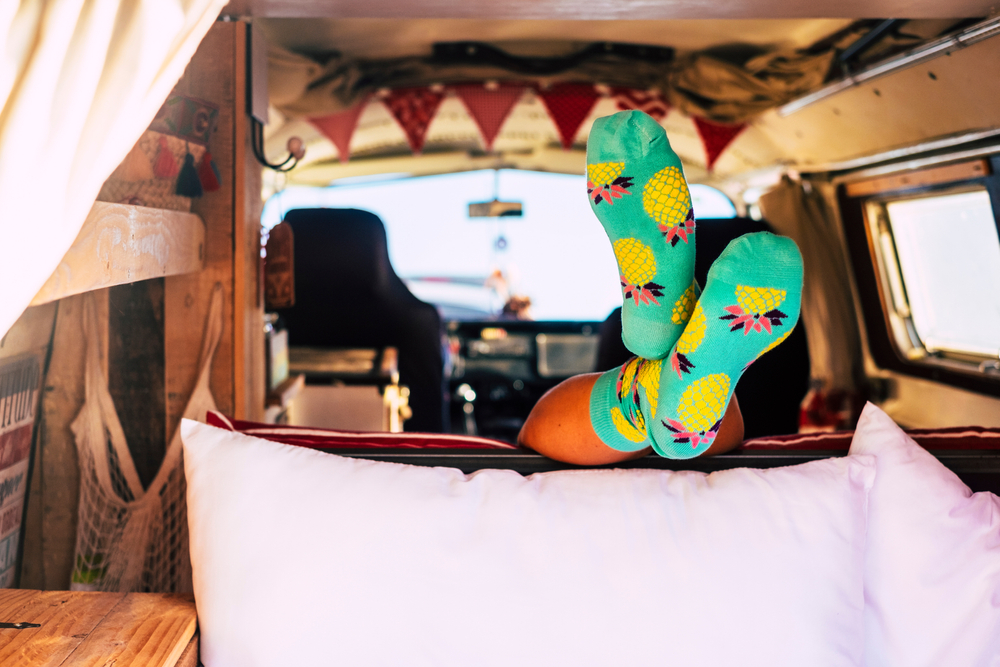 What's the Best Minivan for Camping?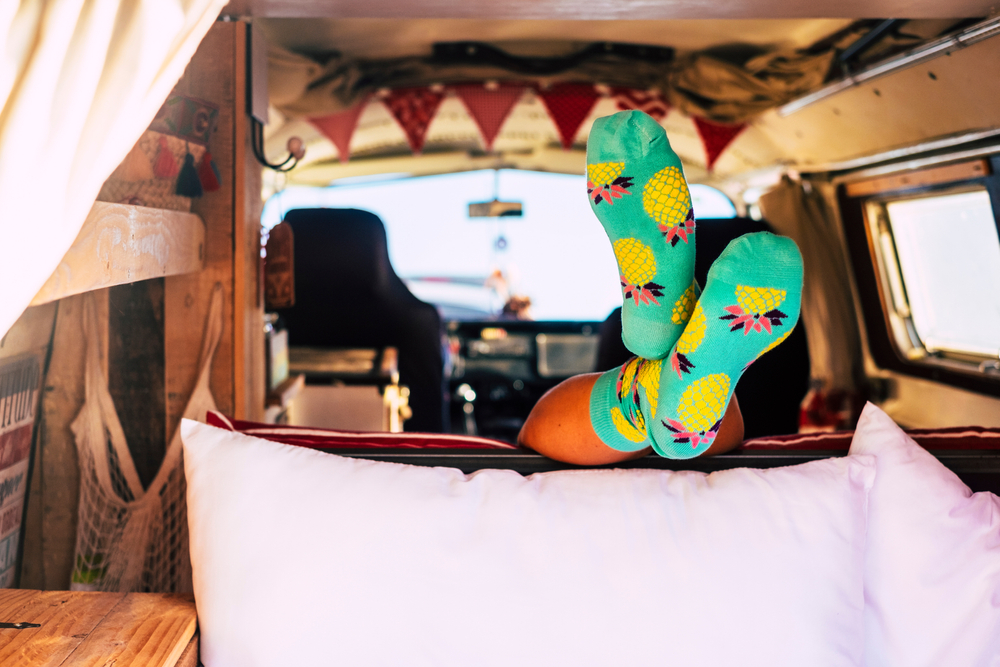 The warm months of spring and summer are ideal for camping. Summer also represents a long vacation for kids, and it could be the best time for adults to claim their much-needed paid time off. Not all vehicles are ideal for camping, but minivans offer individuals and families ample cargo space for gear, a decent towing capacity and enough space for sleeping, too.
What's the best minivan for camping? Any minivan could be used for camping. This body type offers the most space of any vehicle—they are even roomier than SUVs. Car buyers can choose from four minivan models:

Mini but Mighty: All About the Minivan
The minivan drove onto the auto scene in the '80s. However, some models were just vans. The minivan really became the vehicle of choice for families in the '90s. The nostalgia-celebrating site Click Americana highlighted the minivan's popularity and its place in 1990s pop culture.
While the vehicle was once stereotypically known as a soccer mom car or a 'mom-mobile' per the Click Americana article, these cars became ubiquitous as the family car. The minivan overthrew the old station wagon, but, unfortunately, the vehicle preference of families changed by the 21st century.
When SUVs drove onto the scene, families started buying these heavier and sportier vehicles instead of the standard minivan. Eventually, manufacturers began to discontinue their minivan models.
Yet vintage and throwback familiarity becomes comforting. Now the minivan has hit new heights of popularity and has become a family favorite once again. Last summer, Kelley Blue Book (KBB) called minivans "the hottest selling vehicles in America".
Today's buyers can choose from four models that are comparable in price, safety and fuel efficiency. There are even two hybrid minivans that offer maximum fuel efficiency: the Toyota Sienna and Chrysler Pacifica.
The Sienna has a combined fuel efficiency of 36 miles per gallon, while the Pacifica has a range of 520 miles. While the Sienna is only available as a hybrid, the Pacifica is offered in a standard model and as a hybrid.
All four models received high safety ratings from the Insurance Institute for Highway Safety. The Sienna, Odyssey and Pacifica all received Top Safety Pick+ ratings. The Kia Carnival received a Top Safety Pick when equipped with specific headlights and for models built after March 2021.
Car Camping in a Minivan
The minivan offers the most spacious interior for car camping. These vehicles even offer more space than most SUVs. However, sleeping in a minivan or creating a makeshift camp space might require a bit of creativity.
Many minivans allow the back two rows to either flip forward or be removed completely. Both options free up a lot of space for creating a sleeping area. The space could easily sleep two people or maybe more.
However, before car owners decide to drive cross country and sleep in their minivan along the trip, they should explore how to create their sleeping area before leaving. While a minivan might easily sleep two, it might be a bit cramped if more individuals need to use the space.
Before hitting the road, explore different arrangements and find out which bed set-ups work best. Lie down in the back and determine if it's comfortable. Some campers might use a blow up mattress, others might opt for foam mattress covers and sleeping bags.
Don't assume, though, that a minivan will fit everyone comfortably. Try out different configurations.
Can a Minivan Tow a Camper?
Minivans have spacious interiors that could make them ideal choices for car camping. However, when it comes to towing capacity, these vehicles are limited in their capabilities.
Most minivans can only tow a maximum weight of 3,500 pounds. However, the Pacifica can tow 3,600 pounds. If the camper is light, then using the minivan to tow could be fine. Car owners need to check the weight of the trailer, though.
In addition, pay attention to payload capacity. This refers to the amount of weight inside the vehicle. Payload capacity includes passenger weight.
While minivans might surpass an SUV for interior space, larger SUVs offer better towing capacity for pulling campers, boats, etc. Several large SUV models can tow more than 8,000 pounds. According to Motortrend, the 2022 Ford Expedition has a tow rating of 9,300 pounds.
Minivan models could be fine with towing a small trailer that is used to store gear or even sporting equipment. Some families even use a small trailer for coolers or other necessities.
Minivans for Storing Camping Gear
Car owners need to be mindful of the payload capacity of their minivan, but basic camping gear shouldn't—hopefully—exceed the recommended payload. Most minivans offer plenty of cargo space for collapsible tents, coolers, sports gear, sleeping bags, etc.
One of the hidden benefits of minivans, though, is that they might be large enough to sleep the family if it rains during a late-night camping trip. While dropping down the seats probably won't offer enough space for everyone, families could get creative.
The front seats could recline for sleeping. Someone could sleep on the back seat. The second-row seats also could recline. Families in the midst of a downpour might have enough space in the minivan to comfortably fit the entire family when necessary.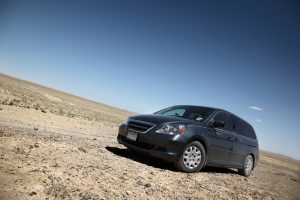 Can Minivans Go Off-Roading?
Most minivans are built for paved roads. These vehicles aren't designed to hit the rough and tough terrain like some SUVs. Minivans are fine for navigating standard campsites, but most models probably wouldn't fare well in muddy off-road paths.
However, Toyota introduced the Sienna Woodland. This minivan can take on some off-road adventures as it features all-wheel drive and a higher clearance (off-ground). Drivers shouldn't consider serious off-roading, though.
SUVs offer different capabilities for off-roading. Buyers can opt for different packages and/or upgrades for SUVs to ensure that their vehicle can handle their rugged adventures. While SUVs might be able to take on tough terrain, larger SUVs are typically more expensive than a standard minivan. Small and more affordable SUVs also might not offer the space needed for those camping adventures.
Use Carzing to Find the Best Minivan for Camping
Buyers who are looking for a minivan for camping can use Carzing to find their most affordable option. Find all the minivans by searching by body type and selecting the minivan icon.
Carzing will show all the vehicles available at nearby dealerships. However, buyers can refine their search by choosing to omit new or used options. Buyers also could select specific equipment or features to ensure that their list of results best reflects their needs.
Buyers also can get pre-qualified for financing using Carzing. Choose from different loan options to find the financing that offers the best interest rate or the lowest monthly payment. Carzing also helps car buyers understand their down payment obligations so that there are no surprises.
When buyers find the loan that works best for their finances, they can print out a voucher with the details and present it to a participating dealership. Buyers will still need to fill out a credit application at the dealership to get approved for their financing.
At the dealership, buyers can secure their loan, take a test drive of their favorite minivan and finalize the deal. Carzing lets buyers take control of the buying puzzle to find the car they want and the financing that fits the budget.