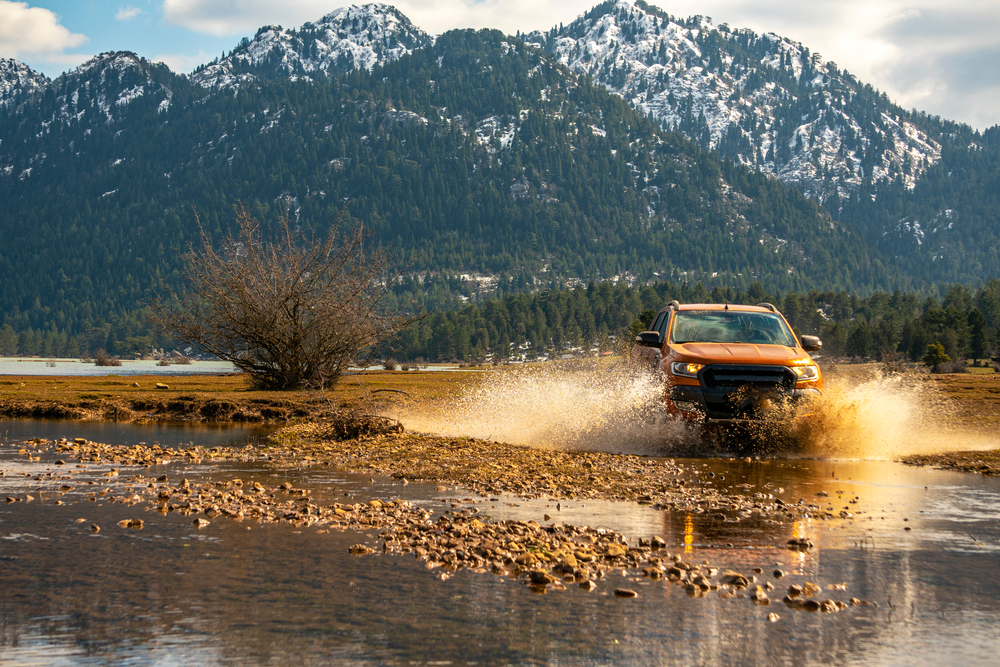 The Best Off-Road Vehicles for 2023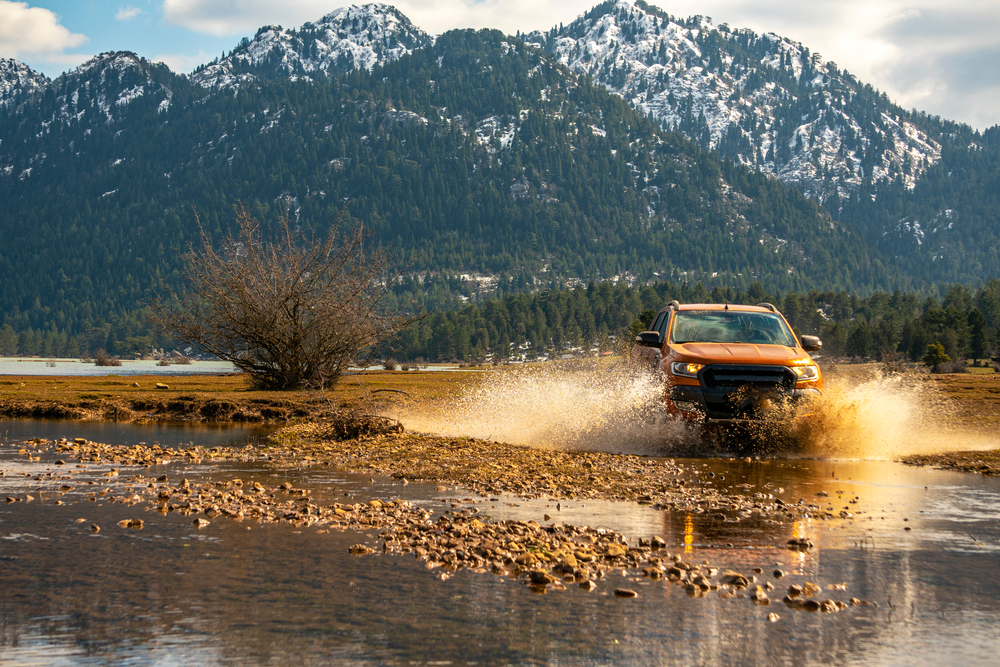 A new year for car models has arrived, which means updated 2023 models are bumping the 2022 model year as the latest must-have purchase. However, some 2023 models began moving onto dealership lots in the fall of 2022. While new model years might only have a few improvements or design changes, they still might be the most desirable on the lot.
Off-road vehicles like heavy pickup trucks and large SUVs are popular purchases, and new models might sell easily. In fact, the top three best-selling vehicles are pickup trucks. What are the best off-road vehicles for 2023? Check out these rugged trucks and SUVs:
2023 Jeep Wrangler

2023 Jeep Grand Cherokee

2023 Ford F-150

2023 Chevrolet Silverado 1500

2023 Ram 1500

2023 Ford Bronco

2023 Land Rover Defender
Trucks vs. SUVs for Off-Road Adventures
Should buyers choose a truck or an SUV for heading off-road? Not all SUVs and trucks are designed to take on rugged trails or other off-road treks, but the models that are designed with the off-road driving prowess could leave buyers wondering if a truck or SUV is the vehicle for the job.
Trucks and SUVs offer different benefits. For example, larger trucks can offer more towing power as they can be equipped with a diesel engine. SUVs might not offer the same towing capabilities, but they might provide more space for passengers. Larger SUVs can accommodate seven to eight people. Trucks are limited to five (or sometimes six, depending on the configuration).
Trucks and SUVs also vary in price. The budget can determine which vehicle is best suited to the buyer. Half-ton pickups typically start in the mid-$30K range; the Ram 1500 starts at $37,410, the Ford F-150 starts at $34,585 and the Chevrolet Silverado 1500 starts at $36,300. However, SUVs like the 2023 Jeep Wrangler are priced around $31K. Comparably, the Ford Bronco has a starting MSRP of $32,295.
Some off-road capable SUVs are more expensive. The Range Rover Defender starts at $53,500, and the Jeep Grand Cherokee starts at $41,035.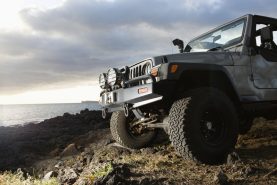 Off-Road Adventures Might Require Upgrades
Depending on the model, off-roading might require that the buyer chooses upgrades to properly equip their vehicle. For example, better tires or off-road packages could enhance the vehicle to ensure it's safe to take on certain terrain.
Those who want to rock crawl also need to research the capabilities of the vehicle. Not every off-road vehicle could be equipped to take on boulders and mountainous terrain. According to MotorTrend, the Jeep Wrangler Rubicon is the ultimate off-road vehicle—and it's fully capable of navigating over rocks and boulders. While the Rubicon is rugged and ready to rumble over all terrain, buyers still need to make sure their Wrangler is equipped for adventure.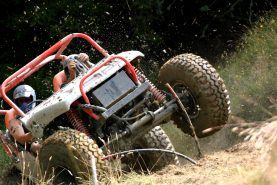 Other Off-Road Vehicles
While the best off-road vehicles might be rugged SUVs and trucks, there are a few other vehicles that can take on sandy beaches, mud and other unpaved trails. All-terrain vehicles—also known as ATVs or four-wheelers—also can be used to explore the wilderness.
ATVs also could be a more affordable option than purchasing an SUV or heavy pickup. However, the passenger capacity of ATVs might be limited, and storage isn't necessarily plentiful in smaller ATVs.
Car shoppers also shouldn't conflate cars with all-wheel drive with trucks or SUVs with four-wheel drive. These drivetrains are very different. Four-wheel drive (4WD) can't be used on dry surfaces; engaging four-wheel drive also must be done manually. However, cars with AWD automatically use all four wheels while navigating slick surfaces or icy pavement.
Cars with all-wheel drive also aren't designed to take on boulders or other tougher terrain. Taking a car off-road when it isn't designed for this purpose could lead to damage or the driver being stuck or stranded.
Even when vehicles are designed for off-road exploration, buyers always need to understand any additional equipment or features that are needed to ensure that these vehicles can handle the adventure safely.
Some Popular Models Could Be Sold Out
The most popular off-road vehicles could move off the lots quickly. For example, the most popular vehicles in the country are the Ford F-Series, Ram pickup and Chevrolet Silverado. Depending on the supply and demand in a region, buyers might need to order their truck. Some dealerships, though, could have plenty of trucks on the lot.
When buyers are set on a particular make/model of a vehicle, they should research availability at the dealerships near them. Buyers should not assume they can stop by the dealership to find the exact truck or SUV they want. As the industry still might be recovering from the chip shortage, some models could be limited or harder to find.
Are Electric SUVs and Trucks Capable of Off-Roading?
Electric vehicles allow for owners to avoid the gas pump and the ever-changing prices of a gallon of gas. Each year, there might be more electric vehicles from which buyers can choose. There are several electric trucks and rugged SUVs, too.
Are electric SUvs and trucks able to go off-road? Some models can take on the unpaved paths. For example, the Ford F-150 Lightning and Rivian's pickup and SUV models are all capable of navigating tougher terrain.
The Ford F-150 Lightning debuted for the 2022 model year. It was incredibly popular; Ford had to stop accepting orders because of the high demand. The Lightning was off-road capable and offered an estimated range of 240 miles. The 2023 Lightning is now available.
The Rivian R1T pickup truck starts at around $70,000. The R1T has an estimated range of 260 to 420 miles (depending on the battery and motor). It also can tow up to 11,000 pounds.
The Rivian R1S SUV starts at around $75,000. It has an estimated range of 260 to 321 miles (depending on the battery and motor), and the R1S has a towing capacity of 7,700 pounds.
The GMC Hummer also will debut as an electric SUV and pickup truck. The new Hummer EV models will be equipped for off-roading, too. Specs related to range and price are not yet available.
Finally, Tesla is still taking orders for its Cybertruck. The new and futuristic pickup model offers different price points (the lowest option is $39,900) depending on the motor configuration. The Cybertruck offers an estimated range of 500 miles and can tow up to 14,000 pounds.
In addition, Chevrolet also is expecting to debut an electric Silverado, and buyers can place a reservation now. It's expected to have an estimated range of 400 miles. The truck model is shown taking on rugged terrain, so it's likely going to be off-road capable.
Shopping for Used Off-Road Vehicles
Buyers who don't have the budget for a new 2023 off-road SUV or pickup could shop used and pre-owned models. Not only could they find more affordable options, but they also might find discontinued models like the Toyota Land Cruiser.
The Land Cruiser was noted by iSeeCars as the longest-lasting vehicle; it was most likely to hit 200K miles on the odometer. Unfortunately, the Land Cruiser was discontinued by Toyota in 2021. However, earlier models can be found used at different prices.
Some pickup trucks could be a pricier purchase for buyers (especially larger ¾ ton pickups), but used models might offer lower prices. However, lower prices could correlate with older vehicles that have higher odometer readings. Still, buyers who want a truck to drive on the beach or in the wilderness might find that an older pickup is acceptable.
Larger SUVs also are more expensive. Luxury off-road SUVs like the Land Rover Defender could be an affordable used purchase. Those who need the lowest priced vehicle, though, might choose older models or those with high mileage.
In addition, buyers also could be able to score a deal by choosing a 2022 model. Dealerships could offer promotions like lower APR or lease deals on 2022 models to clear their lots for the newer models. However, more popular vehicles might not be offered at lower prices.
What is the Best Off-Road Vehicle?
There isn't one vehicle that is the king of the off-road. While the Jeep Wrangler Rubicon is noted as the best option or one of the best options by some sites, every buyer could have their own preferences for off-road vehicles.
Some buyers need a vehicle that's capable of towing or hauling heavier loads. For these buyers, a larger pickup truck equipped with a diesel engine might be the best purchase.
There are buyers who simply want a vehicle for rock crawling and exploring. They don't need two or to haul any cargo (beyond some gear). Rugged SUVs like the Wrangler and the Ford Bronco could be affordable and capable rugged SUV options.
Those who are on a tighter shopping budget might find that even the lowest-price off-road SUV is too expensive. Used models could offer lots of affordable models that fit comfortably into any budget.
Buyers should review their budget to understand how much they can spend on their off-road vehicle. They also need to research any upgrades or features that they need to add to ensure that their vehicle is properly equipped for all their off-road adventures and explorations.