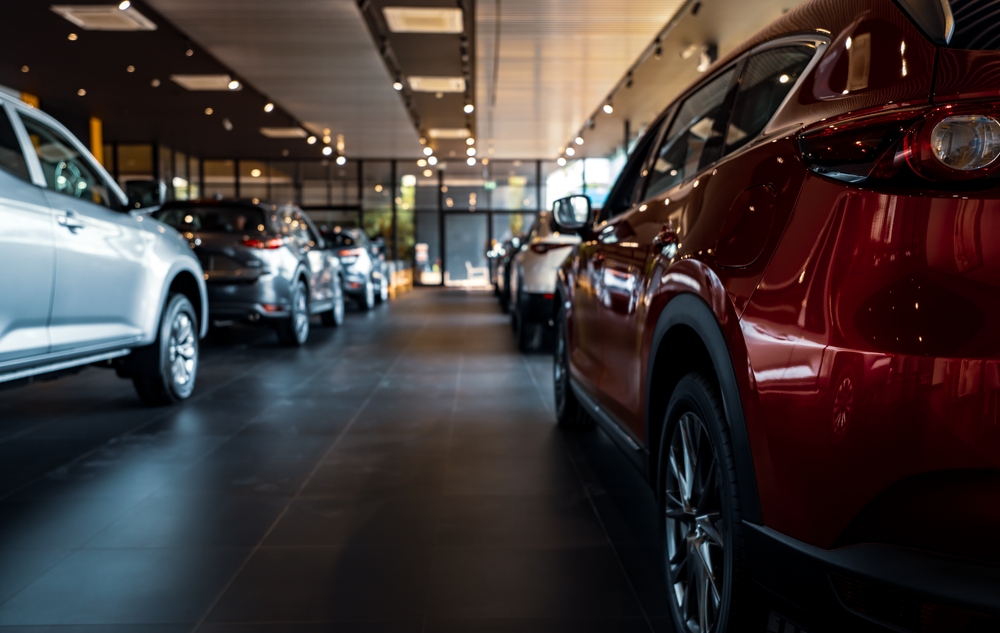 What is the Best Sport Utility Vehicle?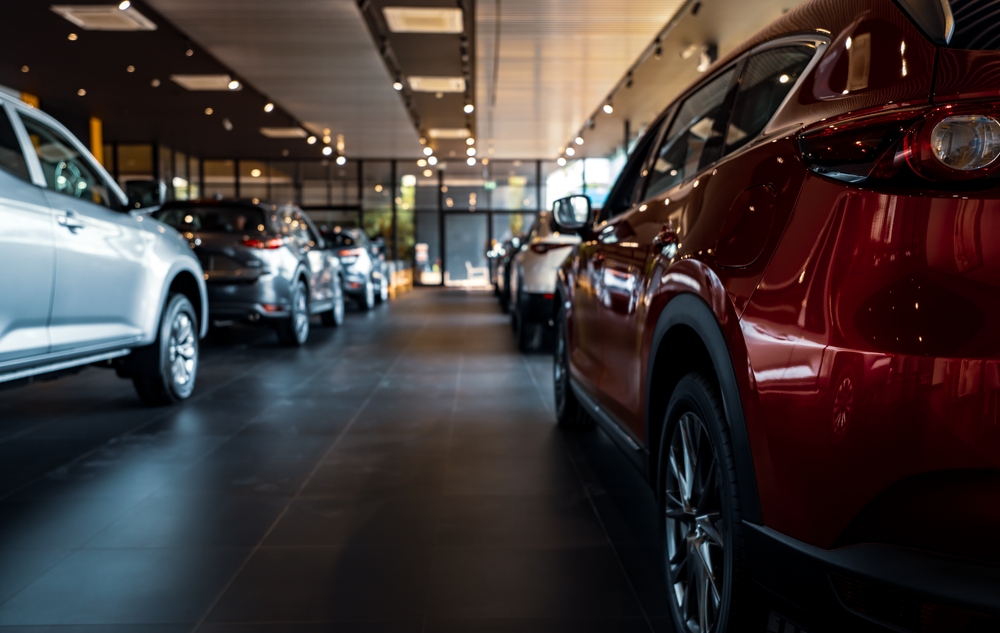 Sport utility vehicles (SUVs) and pickup trucks dominate the list of best-selling vehicles. SUVs have become the vehicle of choice for many families and anyone who needs extra space for cargo, power for pulling trailers, and the ability to take on tough treks, too.
SUVs come in small or compact body designs, midsize designs, and even full-size options. Finding the best SUV can depend on a buyer's preferences, driving habits, and style choices, too. SUVs are even offered in electric power options. What is the best sports utility vehicle? Here are the least expensive, most spacious, and most fuel-efficient options available.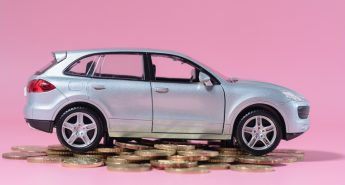 The Least Expensive SUVs
Budget buyers may need to understand that larger vehicles will likely bear a larger price tag. SUVs are offered in different sizes and there are even luxury SUVs for buyers with more to spend, but what are the least expensive SUVs?
Buyers might expect to spend more than $20K for a new SUV, although the pre-owned market might be ideal for finding lower-priced vehicles. The least expensive SUVs also are compact designs; buyers probably won't find three-row SUVs for less than $20K. In fact, only three small SUVs are less than $20K; these models are:
The Hyundai Venue starts at $19,000. Buyers should understand, though, that this is the starting MSRP (and doesn't include sales tax or other fees). Those who want to start adding extra features will likely need to spend more than $20K. The Venue is a two-row small (or compact) SUV that has space for five. It's also fairly-fuel efficient for an SUV—it gets an estimated 33 MPG Hwy. The Venue also earned a great safety rating; it received a Top Safety Pick rating/award (with specific headlights) from the Insurance Institute for Highway Safety (IIHS). For buyers that want a budget-friendly, safe, and fuel-efficient SUV, the Venue checks all the boxes.
Kia is known for economically-priced vehicles. The Soul isn't an exception; it has a starting MSRP of $19,790 and has space for five. Again, though, this is the base price with no extras. The 2022 Kia Soul is even more fuel efficient than the Venue, getting up to 35 MPG. It received a Top Safety Pick rating/award (when upgraded with optional crash front protection and specific headlights) from the IIHS. The 2022 Soul is another small SUV that offers safety, affordability, and fuel efficiency.
The Nissan Kicks is priced at just under $20K and starts at $19,990. It has space for five and can get an estimated 31 MPG in the city and 36 MPG on the highway. However, the Kicks did not receive any safety honors. While it's affordable and fuel-efficient, buyers who want the best-rated compact SUV for safety might not get a kick out of the Kicks.
What are the Safest SUVs?
There are a vast number of SUVs on the market. Again, these sporty vehicles are offered in small or compact, midsize, and large options. For every size segment, there are many SUVs that have received top safety ratings from either the IIHS or the National Highway Traffic Safety Administration (NHTSA).
The IIHS honors the safest vehicles with either a Top Safety Pick+ or Top Safety Pick rating/award. The difference between those that receive a "+" and those that don't is related to the headlights. Vehicles that offer headlights rated as good/acceptable as a standard option receive the "+" (if they meet the other safety criteria, too).
The NHTSA rates the safety of vehicles using a star-based system. A five-star rating denotes the safest vehicles. Car shoppers can review the safety ratings of vehicles by searching the make/model/year via the NHTSA or the IIHS.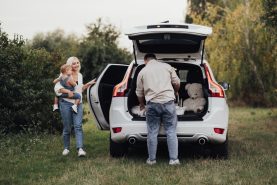 What are the Most Spacious SUVs?
The most spacious SUVs for large families or individuals who need the most cargo space are the full-size (large) models. Buyers may notice that the price of these SUVs is much higher than the compact SUVs. However, full-size SUVs often offer three rows of seating. Some SUVs are designed to fit up to nine passengers with bench seats included in the front, second, and third rows.
Some large SUVs can be configured to include captain's chairs in the second row and decrease the passenger capacity to seven. Typically, a standard or full-size SUV can accommodate seven to eight passengers. These larger SUVs also offer more legroom for the back seat passengers.
Some buyers might focus on cargo space. Large SUVs might allow the back seats to fold over to create a large cargo area. The SUVs with the most cargo space include:
Chevrolet Suburban / GMC Yukon XL 144.7 cubic feet
Chevrolet Tahoe / GMC Yukon 122.9 cubic feet
Ford Expedition Max 121.5 cubic feet
Toyota Sequoia 120.1 cubic feet
Jeep Wagoneer 116.7 cubic feet
What are the Best Sports Utility Vehicles for Towing?
SUVs can be ideal vehicles for towing a boat or maybe even a small camper. Some are simply used to pull tiny trailers for coolers and other camping gear. For car shoppers who need to pull a trailer, what are the best sports utility vehicles for towing?
Full-size SUVs can offer more power for towing and pulling heavier loads. However, when compared to diesel trucks with powerful engines, SUVs are a bit more limited in what they can tow. The SUVs with the best towing capacity include:
2022 Ford Expedition (towing capacity of the Expedition 4×2 is 9,300 pounds)
2022 Dodge Durango (towing capacity of 6,200 to 8,700 pounds)
2022 Chevrolet Tahoe (towing capacity of 7,600 to 7,900 pounds)
2022 GMC Yukon (towing capacity of 7,500 to 7,900 pounds)
2022 Chevrolet Suburban and 2022 GMC Yukon XL (towing capacity of 7,400 to 7,800 pounds)
As with pickup trucks, the towing capacity of an SUV can depend on different factors including the amenities or features added by buyers. Standard models might not offer the maximum towing capacity as listed, and buyers also could need to upgrade their SUV with a towing package to ensure the vehicle is properly equipped.
What are the Most Fuel Efficient Sports Utility Vehicles?
The most energy-efficient SUVs don't use fuel. While compact SUVs can get decent gas mileage, the most efficient SUVs are electric models. Since companies like General Motors are moving to all-electric power for future models, the choice of electric SUVs might become more expansive.
Currently, there are more than 20 electric SUVs on the market; some of these models are luxury options with a six-figure price tag. While standard vehicles can have their fuel efficiency measured in MPG, understanding the efficiency of electric models might be based on the vehicle's range, which is the distance the vehicle can drive when the battery is fully charged.
The maximum range of an electric vehicle can be impacted by daily driving habits like idling, using the heat or air conditioner, driving at faster speeds, and towing. The electric SUVs with the best range include:
Tesla Model X (estimated range of 348 miles)
Tesla Model Y Long Range (estimated range of 330 miles)
Rivian R1S (estimated range of 316 miles)
Kia EV6 (estimated range of 310 miles)
Ford Mustang Mach-E (estimated range of 305 miles)

The Best Used SUVs
Buyers on a tight budget who have less than $20K to spend on an SUV might choose to shop for a pre-owned or used model. While the price of used cars could be higher because of supply and demand, buyers can still find options in their budget.
When shopping for used cars, prices can be lower based on age, mileage, and condition. Some buyers might pay for the car outright and not need financing; these buyers can simply buy the car that they can afford with their allocated cash in hand.
Those who need financing, though, may need to weigh their used car options. Individuals who have long commutes might not want an SUV with high mileage. Yet, SUVs that are more than a decade old could have less-than-stellar gas mileage. These lower MPG stats aren't related to the age of the car, but, rather, the fact that fuel efficiency has increased through the years.
Buyers needing a fuel-efficient SUV and shopping for a used model might want to research the MPG stats of older models. Older models that have low fuel efficiency could also have large gas tanks (if they are full-size SUVs), and the cost of gas could become expensive.
Shopping for used electric SUVs could be an option, but this depends on the area. Some states have embraced electric vehicles and might have many used models. This isn't the case everywhere, though.
In addition, buyers who are shopping for used electric SUVs should research the battery warranty of the model year. An electric vehicle that's seven years old could be nearing the end of its battery warranty.
What is the Best Sports Utility Vehicle?
There are many SUV models on the market that make it difficult to pick just one that's 'the best.' Instead, buyers can research the safest models, the most fuel-efficient models, or just the least expensive new models. The best sports utility vehicle should fit the buyer's needs, their driving habits and stay within the budget.