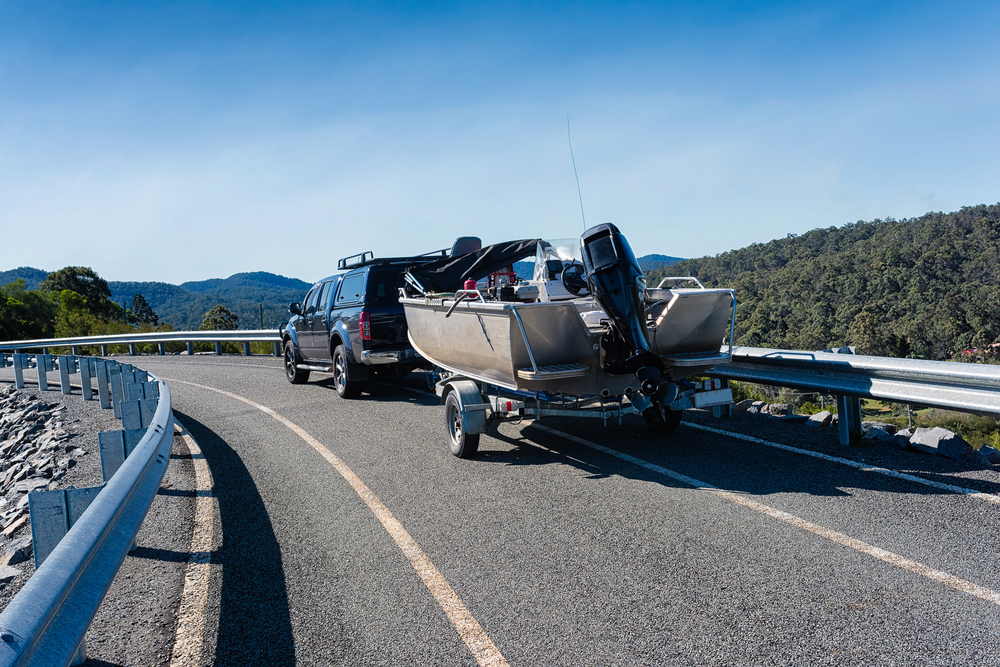 What is the Best Vehicle for Boat Towing?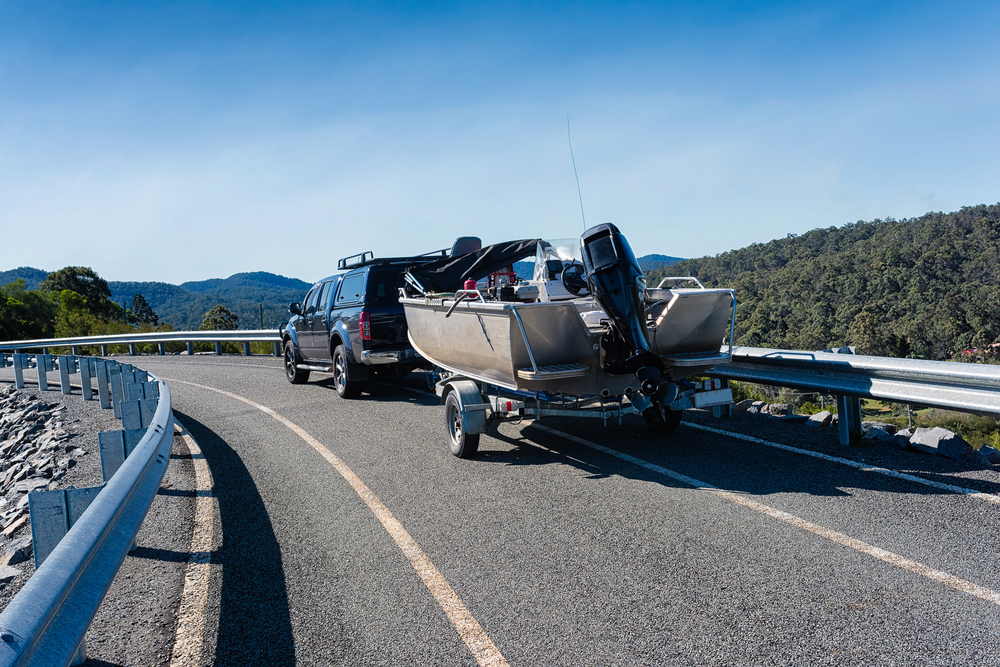 Those who own a boat will need to tow it via a trailer to the lake, river, or ocean docks to enjoy a day out on the water. Not all vehicles are equipped to tow a boat, and larger boats (and their trailers) might require a vehicle with more power.
Some simply need to tow a small fishing boat, while others might tow a larger speed boat. The weight of the boat (and the trailer) determines the best vehicle for boat towing. The vehicles that offer the best towing capacity for boat owners include:
Best Boat Towing Vehicle: Large Pickup Trucks Provide the Best Towing Capacity
Large one-ton pickup trucks might be unrivaled in their towing capacity. Some massive pickup trucks can tow more than 20,000 pounds. However, to ensure that these trucks offer the power needed to tow heavy boats, car buyers might need to equip them with an upgraded diesel engine.
Pickup truck models will typically include a standard gas engine in the base trim or as the standard feature. Diesel engines bump the cost of the purchase price. In addition, buyers also might need to opt for a towing package to ensure that their pickup truck is equipped to tow.
In 2021, pickup trucks were the three most popular vehicles in the country (by sales volume). The Ford F-Series has remained the best-selling vehicle in the country for more than 40 years; in 2021, the Dodge Ram was the second most popular vehicle, and the Chevrolet Silverado was the third.
Large pickup models also include the Nissan Titan, the Toyota Tundra, and the GMC Sierra. Here's how each half-ton model (denoted by 150 or 1500) weighs in according to towing capacity:
Ford F-150: 14,000 pounds
Chevrolet Silverado: 13,300 pounds
GMC Sierra: 13,300 pounds
Toyota Tundra: 12,000 pounds
Nissan Titan: 9,320 pounds
These figures are the maximum towing capacities for each model. However, to obtain this towing maximum, a specific (and sometimes upgraded) engine might be required. Buyers shouldn't assume that the base configuration of the pickup will provide the best towing capacity.
For some trucks, though, the base model might be enough to tow a boat. To ensure that buyers have the power they need to pull their boat and trailer, they need to know the weight of their trailer/boat plus the capacity of their truck.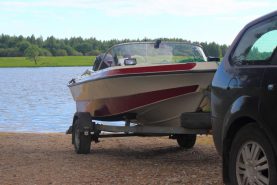 Best Boat Tow Vehicle: Full-Size SUVs
Not every car buyer wants a pickup truck. Some prefer to drive an SUV. However, the towing capacity for even full-size SUVs isn't comparable to that of a half-ton pickup truck. Those with smaller boats in tow could be fine with an SUV, though.
The full-size SUVs that offer the best towing capacities include these models:
Jeep Wagoneer 7,170 to 8,790 pounds
Ford Expedition Max 6,000 to 6,300 pounds
Nissan Armada 8,500 pounds
Chevrolet Tahoe / GMC Yukon 7,600 to 7,900 pounds
Chevrolet Suburban / GMC Yukon XL 7,400 to 7,800 pounds
Car buyers will need to ensure their SUV is properly equipped to tow their boat. This might require additional tow package upgrades or other features.
The Midsize SUVs with the Best Towing Capacities
Midsize SUVs could provide enough towing power and also be an affordable option for buyers. However, their power is limited. While full-size SUVs can tow around 8,000 pounds depending on the model, midsize SUVs won't offer as much power for towing.
The midsize SUVs with the best towing capacities include;
Dodge Durango 6,200 to 8,700 pounds
Land Rover Defender 7,716 to 8,201 pounds
Porsche Cayenne 7,700 pounds
How Much Does a Boat and Trailer Weigh?
Some car buyers might not know which vehicle they need. To find the vehicle with the ideal towing specs and capabilities, boat owners need to know how much weight they need to tow. From there, they could narrow down their choices based on price and any other criteria.
Fishing Duo reports that a typical fishing boat (plus the trailer) could weigh anywhere from 2,000 pounds to 5,000 pounds. There are different calculations to take into consideration when dealing with towing capacity.
However, Drivin' & Vibin' explains that many who tow their RVs abide by an 80/20 rule to account for any calculations. This means that "…you shouldn't tow above 80% of your max towing capacity."
Towing weight beyond the vehicle's towing capacity could lead to damage to the vehicle, but it's also a safety hazard on the road. Boat owners shouldn't guess about the best vehicle for pulling their boat; they need to compute their towing needs. If they are unsure, they should consult a pro who could best advise them. Talk to the dealership; in addition, buyers also should inquire about any upgrades they need to ensure that their vehicle is properly equipped.
Can Minivans Tow a Boat?
While the minivan was once the most popular vehicle for families, SUVs are now the favorite family vehicle. However, minivans offer three rows of seating as a standard feature and offer plenty of cargo space, too. This makes them a great choice for larger families. Can minivans tow a boat, though?
The minivan models currently on the market can tow about 3,500 pounds; the Chrysler Pacifica can tow up to 3,600 pounds. Minivans aren't the most powerful towing vehicle, but they might be able to pull lighter boats. Again, though, buyers must know the weight of what they need to tow and they need to do all the calculations to ensure they don't exceed the minivan's towing capacity.
Can Electric Cars Tow a Boat?
Electric motor vehicles are becoming more popular as auto brands are moving away from the internal combustion engine. Electric motors don't pollute the air with emissions, and they also might be cheaper to run as they aren't reliant on fossil fuels. Some consumers trying to live a greener lifestyle might move to electric for their cleaner design.
Are electric vehicles capable of towing a boat? While smaller electric cars might not offer much towing capacity, there are a few electric trucks and SUVs that could be capable of pulling a boat and trailer.
Rivian's electric pickup truck the R1T has a towing capacity of 11,000 pounds. Tesla's Cybertruck offers a towing capacity of 14,000 pounds. Kelley Blue Book included a list of the towing capacities (and payloads) of electric vehicles; the five electric vehicles with the most impressive towing capacity are:
2022 Tesla Cybertruck 14,000 pounds
2022 Rivian R1T 11,000 pounds
Chevrolet Silverado (2024) 10,000 pounds
2022 Ford F-150 Lightning 10,000 pounds
2022 Rivian R1S 7,700 pounds
Some of these vehicles aren't currently for sale or are unable to be ordered. The Silverado is available for customers to reserve, the F-150 Lightning can no longer be ordered because of strong demand, and the Cybertruck can be ordered but arrivals are TBD.
Even when buyers can procure one of these electric models, they need to understand how towing can impact the vehicle's battery life. Pulling a boat (or any heavy load) will impact the vehicle's range. Those who are traveling long distances with their boat might need to locate charging stations along their route. Visiting more remote areas could mean that car owners won't have access to a nearby charging station.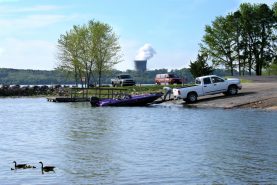 Buying a Used Truck to Tow a Boat
Some boat owners might buy a vehicle specifically for towing their boat. This vehicle might not be used for daily driving or work commute. Buyers might want to spend less money on this secondary vehicle, as they could be less concerned about its appearance or design.
Pickup trucks could be the most powerful option for buyers who need to tow heavy boats and trailers. Used pickup trucks could fit into a more limited budget, although buyers might need to make concessions based on mileage, age, or condition.
Some buyers looking for a towing vehicle for their boat might be cash buyers. The budget might be based on the cash they have on hand. Again, they might not be too concerned about other specifics about the vehicle (beyond the towing capacity and the price).
Other buyers might look at used models if they can't find the newer model years at the dealership. Some popular models could be difficult to find related to high demand or even because of the chip shortage.
Shopping for a newer used truck could help buyers expand their options and find better prices, too. The best sites for used cars let buyers tailor their search to their specific preferences; for example, buyers might be able to limit the search to pickup trucks with diesel engines and even specific interior features and set a price range, too.
This is the Best Vehicle for Boat Towing
The best vehicle for boat towing is the vehicle that offers the towing capacity that can handle the boat and trailer. Buyers need to understand their towing needs to find the best vehicle to tow their boat. Again, exceeding the towing capacity of any vehicle could be a safety hazard and result in damage to the vehicle.
If buyers don't know which vehicle will fit their needs, they need to ask an expert. The dealership team might be able to help buyers find an affordable vehicle that has the towing capacity that the buyer needs for towing a boat.