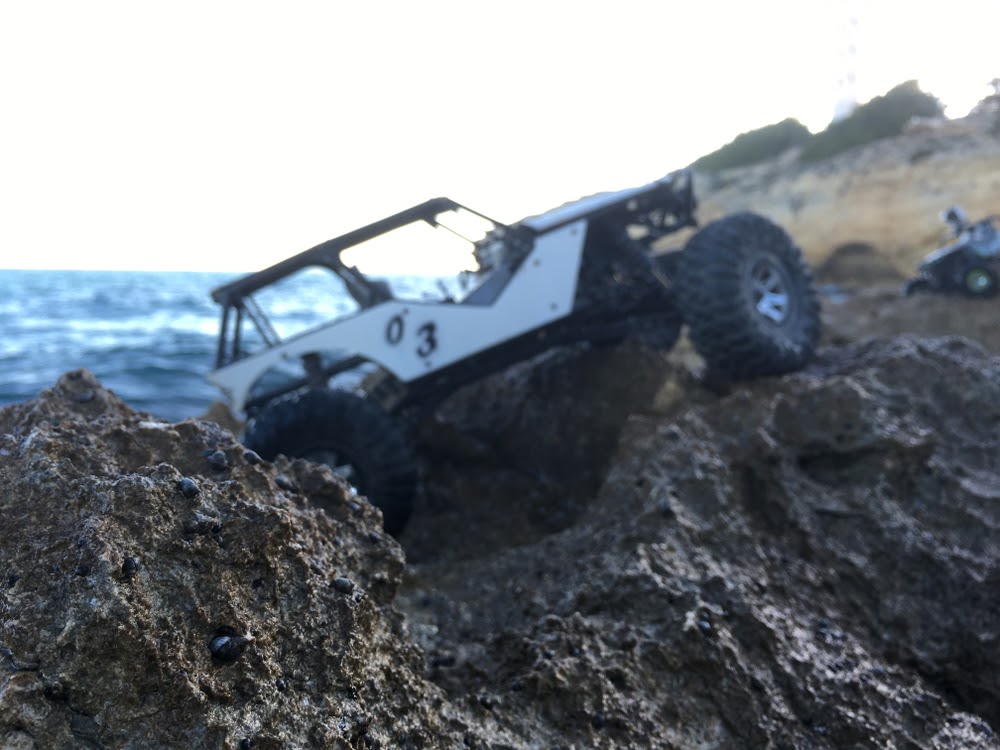 What is the Best Vehicle for Rock Crawling?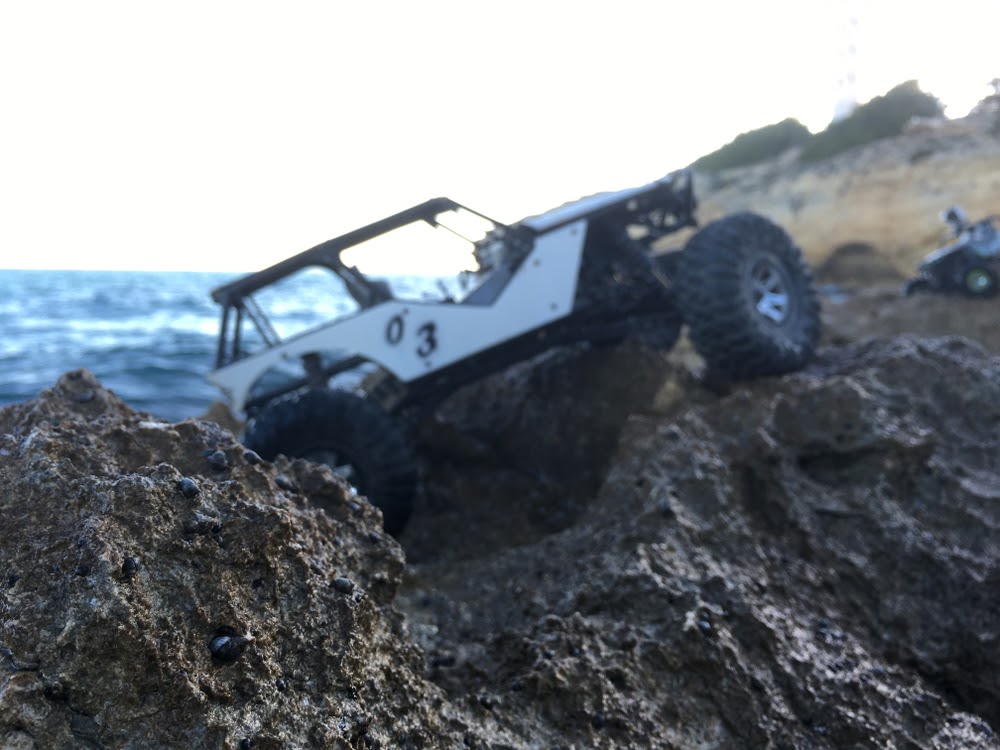 Off-roading takes drivers away from the paved protection of highways and city streets and into the adventurous wild. There are certain vehicles that can go anywhere—the soft sandy beaches, muddy and grassy fields and even rocky terrain.
Driving over massive rocks and boulders require not just 4-wheel drive capabilities but also a rugged, tough construction that can take on this more dangerous terrain. What is the best vehicle for rock crawling? Check out these 4WD models that can overtake any mountainous, rocky landscape!
What is Rock Crawling?
For those who don't know, rock crawling is off-roading in the most extreme form. Cars (and trucks) drive over massive rocks (or boulders) and take on this insanely rugged terrain.
Rock crawling cannot and should not be done in just any vehicle. The sport can be dangerous, and not only is the proper vehicle required, but tires need to withstand the sharp edges of the rocks.
Typically, massive trucks or Jeeps take on this type of off-roading. The tires must be specifically designed to withstand the terrain, and drivers shouldn't just head out into the mountainous hills with regular tires.
Rock crawling competitions also are a sport. Those who watch these competitions know that the vehicles tend to be buggies, too. These aren't just dune buggies, but specially designed vehicles. The tires are large and buggies feature a cage-like design for protection.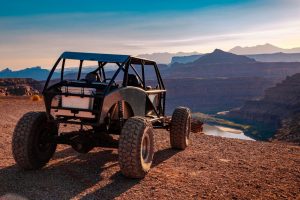 What Do Vehicles Need for Rock Crawling?
Motor Trend details what drivers who want to off-road into the boulders and rocks need to ensure that their vehicle isn't battered and destroyed because of rock crawling. Remember, this is the most rugged terrain a car can take on.
Here are Motor Trend recommendations:
Big axles
Turned up exhaust pipes

(downward is asking for trouble). Check the muffler and make sure it isn't going to be in a direct collision with the rocks! Have a pro adjust as needed

Opt for low-gearing
Go big for driveshaft

…that means bigger and better u-joints

Protect the body!
Choose a winch that can pull 1.5 times the weight of the vehicle
Prepare the undercarriage…protect everything!

Beyond Buggies, What Vehicles Can Rock Crawl?
For individuals who want to take on tough trails, boulders and the most rugged rocky terrain, what vehicles are best for rock crawling? While all the above recommendations per Motor Trend are applicable to any vehicle that will hit the rocks, there are makes/models that are best for this extreme off-roading adventure.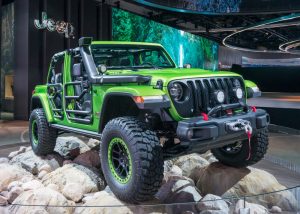 Jeep Wrangler Rubicon
The Wrangler is optimal for off-roading, but the Rubicon is also capable of tackling the rocks. Drivers must ensure, though, that they equip their Rubicon with the essential protection for rock crawling. Upgrade tires and other features so that damage or safety isn't compromised.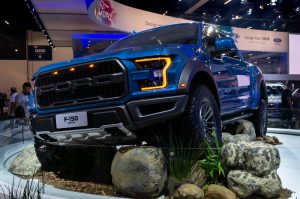 Ford F150 Raptor
The Ford F150 is one of the most popular trucks on the market, and it is capable of rock crawling!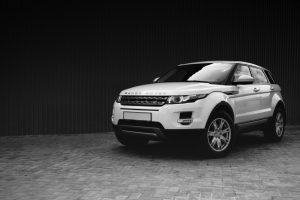 Range Rover
Matthew Scott, with Outsider, conquered one of Moab's toughest trails—Hell's Revenge 4×4 Trail—with a Range Rover. No damage was noted!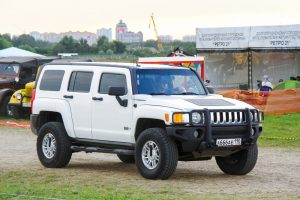 Hummer H3
Hummers were built for durability. The H3 is often seen tackling the rocky terrain.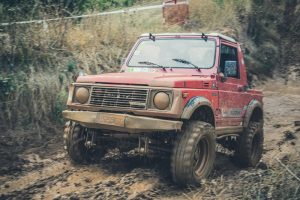 Suzuki Samurai
The Samurai is often modified to become a rock crawling machine.
Ensure the Vehicle is Ready…to Rock!
Drivers who are new to rock crawling need to research all the safety measures before hitting any rocky terrain. The vehicle needs to be equipped to be able to withstand the slick surfaces and rugged terrain of boulders and rocks.
Rock crawling is extreme. Again, safety is the highest priority. Those who participate in competitions have likely been rock crawling for years, and they know exactly how to maneuver in each obstacle. New crawlers do not have this experience.
For those who are interested in the activity, the site Offroading released a guide to rock crawling. The guide recommends that crawlers go slow and use a spotter! Rock crawling isn't about speed! Of course, spotters are a good recommendation for any crawler!
What's the Price for a Rock Crawling Vehicle?
Certain vehicles may be better for rock crawling. However, just buying a vehicle doesn't get a driver ready to crawl. Again, that vehicle might need to be modified to ensure that it doesn't sustain damage and for safety reasons, too.
After choosing the ideal vehicle, a pro could help prepare the vehicle for rock climbing and offer advice on what needs to be modified on the car.
When considering a car budget for their crawler, buyers might need to keep in mind any modifications they might need in addition to the actual cost of the vehicle. Specialty tires and other modifications can add up. Buyers with a more limited budget might opt to shop for a used vehicle.
Carzing Can Help Find the Perfect Rock Crawler
Looking for the right vehicle for rock crawling? Buyers can use Carzing to locate the best car for hitting the rocky terrain.
Carzing lets buyers search for vehicles by make/model, body type, price or just via keywords. Search results can be further streamlined by choosing additional features or specifications like drivetrain, transmission, equipment, fuel type and more.
In addition, buyers also can sort their results by price, distance, mileage, year or just by 'best match.' This helps further narrow down choices and also find the best mileage, price point or other details that the buyer demands.
Once that ideal rock crawler model is discovered, buyers also can get pre-qualified for financing. Carzing shows different financing options, and buyers can select the terms and monthly payments that are best for their needs. Carzing also helps buyers learn about down payment expectations.
Buyers can visit a participating dealership to fill out a credit application, test drive the vehicle and then finish the deal.
Is the Test Drive Important?
At the dealership, buyers can opt for a test drive. When shopping for a vehicle for rock crawling, obviously the dealership won't offer any rocky terrain for that test drive.
Buyers should be sure that the drive is comfortable, though. Check the different features of the car, and how it drives. Are the seats comfortable? Does the driver feel crammed?
Again, modifications may need to be added for the vehicle to take on rock crawling, although some could be equipped. The purpose of the test drive is to get acquainted with the vehicle, and, sometimes, buyers could find details that they just don't like.
When considering a vehicle for rock crawling, buyers could have multiple models in mind. They also could face slim pickings at dealerships. If the initial search via Carzing offers limited results or doesn't produce the models/makes a buyer really want, the search may be expanded.
If the buyer is open to driving further for the perfect car, they might consider modifying the geographic distance. However, expanding the distance too far also could lead to out-of-state results. Some buyers aren't comfortable buying a car out of state.
Ultimately, though, the perfect car for rock crawling may be discovered but it also might need to be modified. Depending on the make/model, that vehicle might not be perfectly equipped to drive out on the rocks after purchase. Buyers need to do their research to ensure they know all the modifications that their car needs to safely conquer those rocks!