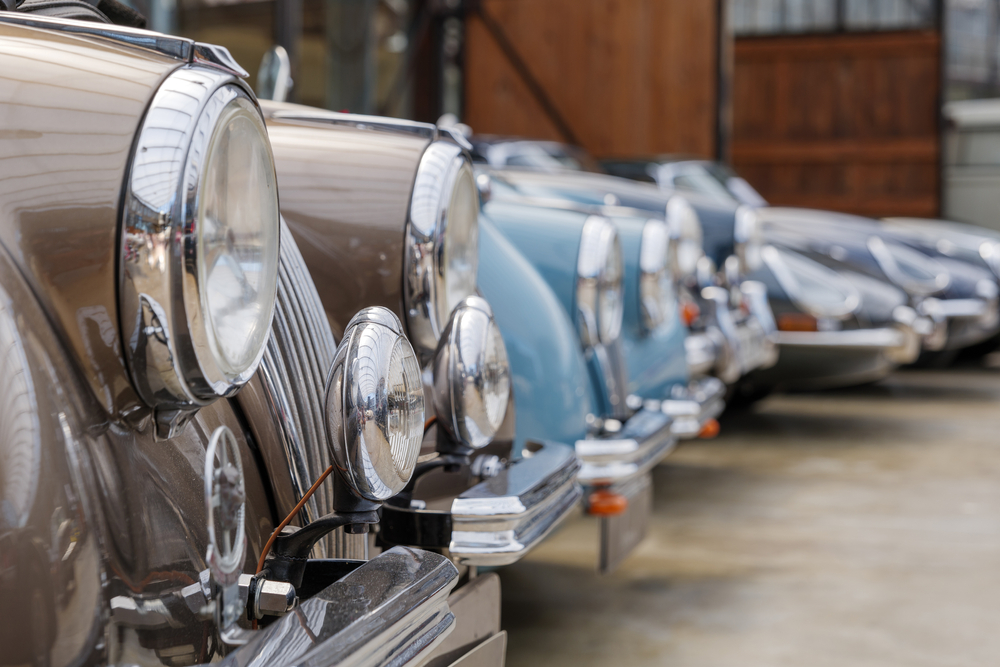 Everything You Should Know About Jay Leno's Car Collection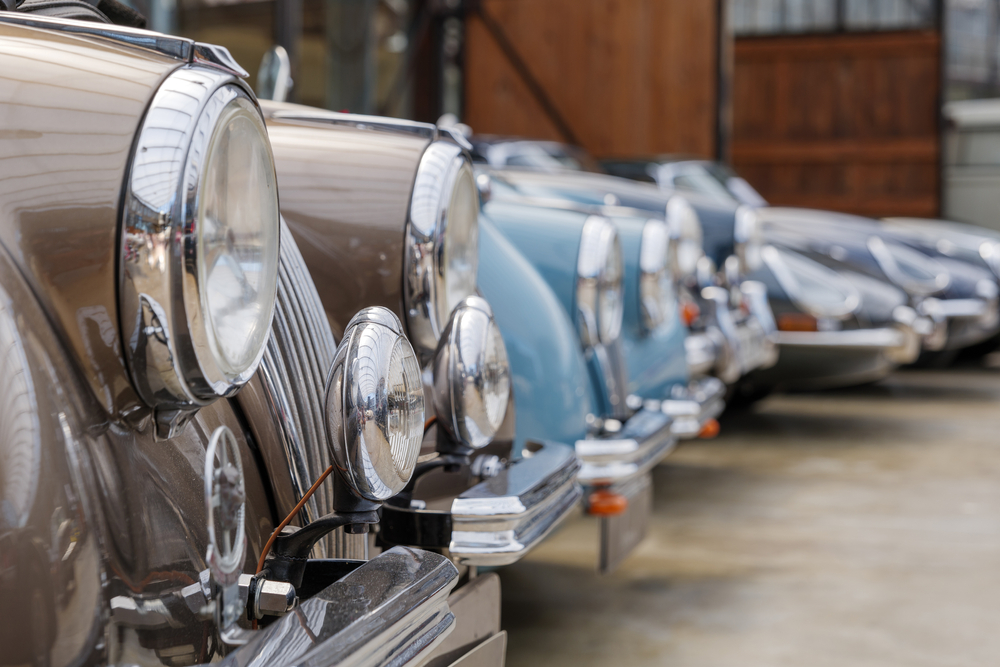 Most people know Jay Leno as a comedian who hosted The Tonight Show With Jay Leno for nearly two decades, but he's much more than that. In addition to being a world famous TV star, Jay Leno is also an avid car collector. In fact, he has amassed one of the most impressive car collections in the world. What does the Jay Leno car collection consist of? Where is this massive car collection stored and how much is it worth? Here's what you need to know:
How Many Cars Does Jay Leno Own?
Leno adds to his car collection on a regular basis, so the exact number of cars he owns fluctuates. It's estimated that his collection currently consists of 181 cars and 160 motorcycles.
How Much is the Jay Leno Car Collection Worth?
It's difficult to estimate how much the Jay Leno car collection is worth for several reasons. First, many of the vehicles have been customized with modifications, which makes it harder to estimate their value. Some vehicles are one-of-a-kind models, which means there's nothing to compare them to when coming up with a value. Plus, Leno buys new cars and sells some of his older cars frequently, so the valuation may change at any given moment.
Experts disagree about how much Leno's car collection is worth. Some experts estimate that Leno's car collection is worth around $52 million. However, others place the value closer to $100 million.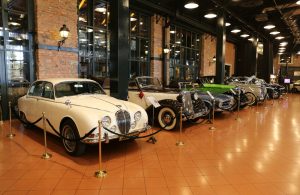 What Are the Most Expensive Cars in Jay Leno's Collection?
Leno is worth an estimated $450 million, so it's not surprising that his car collection consists of some of the most expensive vehicles in the world, including:

2017 Ford GT:

This vehicle was priced at $450,000 when it initially debuted. However, a very small number of these vehicles were produced, so Leno's is now worth over $1 million.

1963 Chrysler Turbine:

In 1962, only 50 Chrysler Turbines were produced, and only 9 of these vehicles were ever sold. One of them now belongs to Leno. Because this vehicle is so rare, it has an estimated value of over $1 million.

2006 EcoJet:

Leno worked with General Motors to design this one-of-a-kind supercar. Because it's a unique vehicle, it's truly priceless.

Blastolene Special:

The Blastolene Special is powered by a tank engine and looks like an old-fashioned race car. Like the EcoJet, this vehicle was designed exclusively for Leno, so it's priceless.

1994 McLaren F1:

Leno once said that this would be the first car he would save in the event of a natural disaster. With a price tag of roughly $12 million, it's not hard to see why Leno would want to keep this vehicle safe.

1967 Lamborghini Miura P400:

Fewer than 1000 Lamborghini Miura P400s were produced, which makes this an incredibly rare vehicle. This is one of the reasons why this car is worth an estimated $3.5 million.

1939 Lagonda V12:

This is one of the oldest and most valuable vehicles in Leno's collection. It's worth an estimated $2.56 million.

1928 Bentley Speed 6:

Before it was associated with luxury, Bentley was known for producing racing vehicles like the Speed 6. Leno's Speed 6 is worth between $3 million to $4 million.
Can You Visit Jay Leno's Car Collection?
If you're a car aficionado, you may be eager to know whether it is possible to see Leno's impressive car collection in person. Unfortunately, you can't simply purchase an admissions ticket and tour his car collection. It's a private collection, which means it is not open to the public.
You may not be able to see the collection in person, but there are several other ways you can learn more about it. Leno has given tours of his car collection to several media personalities, including CNN's Don Riddell. You can find a lengthy video of this tour on CNN's website, where you can get an up close and personal look at many of the cars in his collection.
He has also invited several YouTube personalities, including Shmee150, to his garage for personal tours. The videos of these tours are available on YouTube.
You can also learn more about his collection on his show, Jay Leno's Garage, which airs on CNBC. On this show, Leno reviews a wide range of cars and motorcycles. He also talks about restoring some of the many cars in his collection, so the show provides a glimpse into what it's like to collect and maintain such an extensive car collection.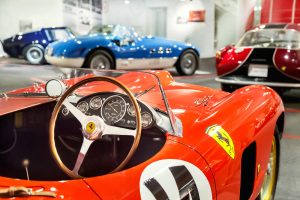 Where is Jay Leno's Car Collection Located?
Most people keep their cars in their garage or parked in their driveway, but Leno needs far more space to store his massive automotive collection.
Leno currently stores his car collection in Big Dog Garage, which is located in Burbank, California. Despite its name, Big Dog Garage is actually not a garage. It's a series of large hangars at the Bob Hope Airport, also known as the Hollywood Burbank Airport.
What is Jay Leno's Favorite Car?
Leno loves every car in his collection, but there's one that sticks out to him as a clear favorite. Surprisingly, it's not the most expensive or unique car in his collection. It's the 1972 Mercedes-Benz 600 Kompressor.
Mercedes-Benz spared no expense when building the 1972 600 Kompressor. In fact, the company did not take cost into consideration when designing this vehicle. Instead, the manufacturer decided to use the best materials to produce the most luxurious vehicle possible, regardless of what it cost. At the time, it was the most expensive vehicle ever in production.
Leno loves this vehicle's powerful engine, high-end interior, and unique hydraulic system. However, he has also admitted that he has a soft spot for all Mercedes-Benz vehicles since he used to work at one of the company's dealerships before landing his big break in show business.
What is Jay Leno's Favorite Automotive Manufacturer?
Mercedes-Benz might hold a special place in Leno's heart, but it's not his favorite automotive manufacturer. The famous comedian has said that McLaren holds the top spot due to their commitment to producing innovative vehicles that are always one step ahead of their competitors.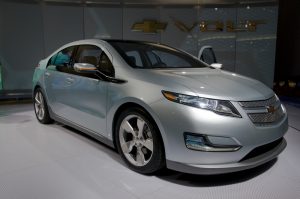 What Does Jay Leno Drive Every Day?
Many people assume that Leno hits the road behind the wheel of a restored luxury vehicle every day, but that's not necessarily the case.
In 2011, he told The New York Times that he drove a Chevy Volt daily. The Volt, which is an electric vehicle, took him to and from the studio where The Tonight Show With Jay Leno was filmed.
Several years later, he revealed that he had upgraded to a 2015 Tesla Model S P90D. Leno was impressed that the vehicle cost him nothing in maintenance or repairs over the course of six years. He also made an effort to keep his vehicle charged to between 80-90% of its capacity, which can help extend the lifespan of the battery.
In 2021, Leno upgraded again. This time, he stuck with Tesla but chose a Model S Plaid instead of a Model S P90D. This vehicle is similar to the Model S P90D, but is capable of producing more horsepower, which is what appealed to Leno.
He takes his other vehicles out on the road occasionally, but mainly relies on electric vehicles like these when driving on a daily basis.